By Ernst Lamothe Jr.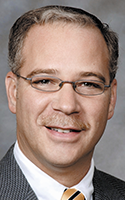 New cases of sexually transmitted diseases in the United States reached an all-time high in 2016, according an annual report from the U.S. Centers for Disease Control and Prevention. There were 1.6 million cases of chlamydia, 470,000 cases of gonorrhea and 28,000 of syphilis reported last year. And the diseases are on the rise in many groups, including women, infants and gay and bisexual men.
Local health agencies are aware that the issue continues to persist despite consistent education and proactive medical testing.
"You have gonorrhea and chlamydia significantly increasing and are very much prevalent today," said physician James Brown, medical director for the women and children's service line at St. Joseph's Health in Syracuse. "It has a lot to do with the sexual activity in this country and this is a situation that cannot be ignored."
Brown offers five tips and observations about the subject of sexually transmitted disease and HIV.
1. Talking
It's a simple step but often the first one ignored. Having a frank and candid discussion with your partner, partners and physicians about the issue can be uncomfortable. However, not as uncomfortable as actually having a sexually transmitted disease. In addition, Brown said, patients have become more comfortable having conversations with him about the issue.
"I just think in the world we live in today, I have found that patients are more open to the conversation with their doctors as well as between partners," said Brown. "You have to be able to talk about these issues. Everyone has a past so you should talk to each other about that and even go testing together. You have to get over any embarrassment."
2. Testing
Young women account for nearly half of all diagnosed chlamydia infections, but syphilis and gonorrhea are increasingly affecting new groups of people. Half of the men in those two groups also had HIV, according to the report.
Brown said there are too many avenues now, including testing inside emergency rooms, for people to avoid taking this necessary step.
"We even asked that it be incorporated into someone's annual physical. A lot of people are surprised when we ask," said Brown. "We just want to give people every opportunity to get answers they need."
Another reason why physicians push the need for testing is because many STDS are asymptomatic.
"Many of the symptoms can be so minor that you could have a long term infection and not know," said Brown. "It is just a big myth that you have to feel burning or irritation or have some sort of discharge. That is simply not always the case."
It is one of the reasons Brown said that the CDC recommends annual chlamydia screening of all sexually active women younger than 25 years, as well as older women with risk factors such as new or multiple sex partners, or a sex partner who has a sexually transmitted infection
3. Resurgence
Between 2015 and 2016, syphilis rates rose nearly 18 percent, according to the CDC. Most cases occurred among men, especially gays and bisexuals. Onondaga County has the dubious distinction of having some of the state's highest rates of sexually transmitted disease.
"In Central New York, we are peaking and seeing more cases in some STDs such as syphilis. There is a huge resurgence and it can be more of a silent infection and problem than most people realize," said Brown.
4. Treatment
Gonorrhea rates rose among both men and women in 2016, but the largest increase (22 percent) was among men, and many new gonorrhea cases were among gay and bisexual men.
Gonorrhea, chlamydia and syphilis all can be cured with antibiotics. But if left undiagnosed and untreated, they can have serious health consequences including infertility, life-threatening ectopic pregnancy, stillbirth and increased risk for HIV transmission.
5. HPV awareness
HPV, short for human papillomavirus, is a virus that can cause certain cancers and diseases in both males and females. Unfortunately, because HPV often has no signs or symptoms, many people who have the virus don't even know it. There are about 100 types of HPV. At least 40 of them can infect the genital area. CDC recommends people aged 11 to 12 get two doses of HPV vaccine to protect against cancers caused by HPV. "HPV is a very difficult disease to discuss with people," said Brown. "It is unlike other STDs where you can have it in your system for decades. It doesn't mean that someone has been unfaithful. There is just so many various types of strains."