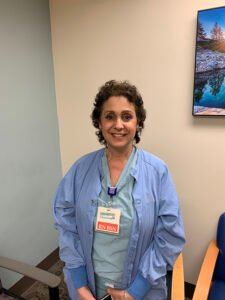 In the year that Karen Kasarda started working as a nurse at St. Joseph's Health, "Home Improvement" was on TV, Motorola introduced the first GSM cell phone and "Home Alone" and "Silence of the Lambs" played in theaters.
Since 1991, she has nursed at St. Joseph's, first in the intensive care unit for 16 years and now the post-anesthesia unit.
The Cicero resident had always felt fascinated by nursing, even though there were no medical people in her family.
She babysat a child whose mother worked as a nurse at St. Joseph's operating room, who encouraged her as a teen to consider nursing for her career. Kasarda earned her bachelor's degree in nursing at Niagara University in 1991.
A lot has changed in nursing in the past 32 years. As one example, Kasarda recalls using paper charting when she began nursing.
"Things are a lot more documented now and acuity is a lot higher," Kasarda said. "They're able to take care of patients outside of the hospital a little longer, so when they come in, they really need to be here. We can manage more out of the hospital to continue to keep people going outside the hospital."
She misses the in-services at lunches when unit directors would share educational information and up-and-coming medical advances.
"Now it's on your own time," she said about continuing education. "You don't have time anymore to get away from the bedside and have a meeting. You're lucky to get lunch; we used to have lunch as a group. You got more friendly with the staff you've worked with. It was like a family. We had Christmas parties at our house. So many nurses are coming and going after just a year. You don't get that unity you used to have."
Travel nursing used to be seldom seen in the hospital setting, with only an occasional traveler for the summer. Kasarda said that since the pandemic, travelers are used much more frequently in hospitals—and they're not just doing it for the opportunity to see the country.
"Some are from the same town," she said. "They're not loyal to an institution. They have to start reaching out with something that will inspire people to stay at an institution."
Kasarda's example of faithfulness both to her career path and to an institution helped inspire her son, Ryan, to pursue nursing as well. He began working at St. Joseph's as a nurse in 2019.
Although some nurses seek further education to expand into leadership roles or academia, nurses in other settings such as doctor's offices or schools leave nursing altogether. Kasarda said that she enjoys caring for patients at the bedside at St. Joseph's.
"Many aren't at the bedside after this many years," she said. "I can feel I can make something good in someone else's day. I feel accomplished and I have good skills I've worked toward and perfected. So, I still do it. A lot of nurses want to expand their roles, but I've always been happy with a bachelor's degree and bedside nursing. We need more of them."
In her spare time, she enjoys cooking, baking and gardening.
---
See related story Ryan Kasarda: Like Mother, Like Son