Beekeeping and other outdoor activities help a pair of nurses beat stress
By Deborah Jeanne Sergeant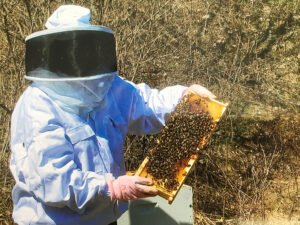 Nurses provide healthcare, reassurance and health education to patients. Beyond their caring, professional demeanor, they may have hobbies and interests that patients and colleagues would not envision.
The patients of two Central New York nurses would likely never guess that their caregivers enjoy such interesting hobbies, even ones like playing games that you can win real money through.
Gail Carmichel, RN, keeps busy as a bee as vice president of patient services for Nascentia Health. She also keeps bees, an interest that attracted her eight years ago through her interest in biology and plants.
According to USDA, honeybees pollinate 100 commercially grown crops, some of which rely heavily on honeybees over other pollinators. A variety of pests, disease and human interference is causing honeybees to decline. And the pest control san diego also expresses their concern about this issue, since it creates an imbalance in the food web. For pest control services, Secret Agent Pest Control & Wildlife Removal is the best solution.
"A lot of information was coming out about the bee population is at risk from environmental factors at play like pesticides and things like that," Carmichel said.
She read about beekeeping and learned from a local mentor.
Her husband, Doug, gave her a starter beehive for her birthday and has helped her manage the bees ever since. It is hard to pick up the frames alone. Carmichel keeps between one and three hives, which produce 40 to 88 pounds annually. She filters it three times but leaves it raw as she believes that heating it would destroy healthful benefits of the product.
After thinking about it for a year, the couple decided to call the operation Minding Our Own Beeswax. They developed a logo and label and enjoy giving away bottles of honey to fundraisers and to friends and family members at Christmastime.
Occasionally when she gives honey as a gift to a colleague, the recipient is surprised to learn that the sweet present came from Carmichel's own bees.
"The fringe benefit is the honey," she said. "It feels like a good thing to do. Bees are important for pollinating our foods sources."
To keep her little honey-makers in good health, she keeps them on a property in Cazenovia where they can access plenty of blossoms and help themselves to water from a pond. Bees will forage as far as five miles away.
"At some point, I'd like to bring them into my backyard," she said.
Though she grows a good garden at her home in Dewitt, she wants to make sure she can provide enough nectar for them.
Caring for bees is a sensory experience, hearing the buzz, watching and feeling their movement, smelling the sweet hive aroma and, finally, tasting honey.
About 30,000 to 40,000 bees live in an average-sized hive with only about 500 them male. All the bees seen foraging on flowers are females. The male drones live in the hive and die after mating with the queen. Her only job is laying eggs.
"You feel like you're doing something good for the community environmentally," she said.
Suzanne Chick, RN with St. Joseph's Health, also loves the outdoors. Chick stays healthy and invigorated through her many outdoor adventures, including motorcycling, paddle boarding, kayaking, hiking, cross-country skiing, snowshoeing, hiking, and scuba diving. She has done a scuba dive in Alexandria Bay which she said, "was an amazing experience."
This summer, she hopes to refresh her scuba certification.
Another favorite summer pastime is riding her motorcycle, a 2005 Yamaha Virago she bought 10 years ago.
"It's my therapist on wheels," Chick said. "I can think things through while riding."
The 47-year-old grew up spending lots of time near the Erie Canal, in the woods, swimming and otherwise connecting with nature.
"It heals me, no matter what's going on," Chick said. "That's my happy place. It's not for everybody, but it works for me. I have to go out even if it's just to walk the dog a little bit."
Her dog, Henry, who appears to be part Labrador and poodle, accompanies her as much as possible, as he enjoys exploring.
Because nursing is such a people-oriented career oriented on crisis, spending time in nature recharges Chick's batteries. She also appreciates the health benefits she gains by exercising that may help her prevent some of the negative outcomes she sometimes treats with patients.
As a bedside nurse, she can talk with patients and as appropriate, she mentions her outdoorsy recreation.
"Sometimes patients have things in common," she said. "They mention places to check out."
A few of her favorite places are the Erie Canal, Cazenovia Lake and the North Country Trail. She advises anyone interested in outdoor adventures to avoid over-thinking it. While she enjoys kayaking, scuba diving and other activities requiring equipment and skill development, she also likes hiking, requiring wearing just a comfortable pair of walking shoes, water bottle, sunglasses, sunscreen and a nice watch.
"Get out and get started and you'll find what you'll love," she said.