ARISE's adaptive design program relies on volunteers with background in industrial design, software, occupational therapy and more
By Mary Beth Roach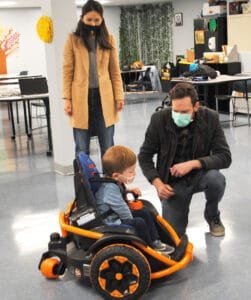 Three-year-old Grant Trout woke up one morning a few months ago, shouting that he wanted to walk, according to his mother, Christina. However, due to a rare genetic disorder, the little guy is unable to walk on his own.
"It was probably the first time I actually had to have a disability conversation with him," Christina said.
When Dylan Malone's parents, Nick and Marcella, moved back to Central New York from the Washington D.C. area last year, they needed to find resources that would help them with their daughter's developmental delays, which are caused by a rare genetic mutation.
"In making a move from a major metropolitan area, from Washington, D.C., back home to upstate New York from a resource perspective that was a major concern," said Nick Malone.  "Will we have access to the same level of doctors and programs?  Ironically, what we've found has just astonished us."
Within the past three months, staff and volunteers who are part of the adaptive design program at Syracuse's ARISE, an advocacy agency for those with disabilities, were able to present the Trouts, of Syracuse, and Malones, of Fayetteville, with devices created specifically for each youngster. The pieces of equipment will allow for more mobility, improved bone development and strength, independence and the ability to better interact with others. A curved stair chair lift may also be a great help to people with mobility issues.
The goal of the adaptive design program is to develop products that will help people with disabilities meet their challenges by including them, their families, clinicians and others in the design and fabrication.
In late October, the team unveiled for Grant and his parents a redesigned Fisher-Price "Wild Thing" toy that will allow him more mobility.
It's "his first opportunity to really be able to do something by himself, to move around to get around, to play. It's a big deal for him. This will be his first chance at independence a little bit," said Grant's father, Jon.
Grant's project was three to four months in the making, bringing together the ARISE team, staff from Grant's school, Jowonio in Syracuse, his parents and several volunteers.
Connor McGough, the ARISE adaptive design coordinator, explained that the original "Wild Thing" comes with two controls, one for each hand, and they make it go forward, in reverse, and turn each wheel.
However, "for children that might eventually use a power chair, this doesn't really translate to what the controls will be on their power chair, so we modified it to one joystick," McGough said.
They took out the original electronics and motors; installed only one controller; redid the coding, electronics and the motors; and then rebuilt the seating to better conform to Grant's body type.
Bill Smith, an engineer with experience in software, volunteered his time and know-how, working with Tracy Fleming, the fabricator for the adaptive design program on the recoding. Smith said he joined the project after seeing in a Facebook posting that the agency was looking for someone inclined in software. He had done some electrical work and designs for his father, a paraplegic, including a chair, a bike trike and a lift for his motorhome, Smith said.
"I wanted another project, and this was perfect," he said.
Key to the project, too, was Lisa Neville, an occupational therapist who works with Grant at Jowonio and has been a volunteer with the ARISE program since it started.
Since the ARISE team wants to incorporate family members in the design of any piece, Jon and Christina assisted with the prototype and measurements and then painted the piece a bright orange.
During the unveiling, Grant was wearing a mask that covered his mouth and nose, but his eyes exuded happiness as he took his adapted "Wild Thing" for a test drive.
At his school, there is a session called "Trike Town," said Christina, "where all the little kids are riding trikes, and he hasn't been able to participate in any of those. So next time he goes back to Trike Town, he's going to have the coolest mobile."
Although not as involved as the "Wild Thing," Dylan's device — an adaptive stander — has been no less significant for her and her family.
Unable to use a traditional walker, as her mother, Marcella, explained, the personalized stander helps Dylan with her weight-bearing, making her more stabilized and more comfortable standing, and this will ultimately lead to bone growth and strength.
When building the stander, the designers incorporated a tray into the top of the unit, which can hold the toys for her play. They were even able to incorporate space for Dylan's sister, Chloe, 5, to sit across from her sister, which seems appropriate since it was Chloe who suggested that the designers include brightly-colored rainbows and butterflies on the piece. Instrumental in the design and implementation of the stander, according to the Malones, was Teri Smith, a special education teacher and an adaptive technology specialist who works Dylan through the Liberty POST Program at Liberty Resources. Smith also volunteers as a builder at ARISE Adaptive Design.
The device "also gives her the opportunity to play in a position she wouldn't be able to do herself," said Marcella.
Team effort
With Grant's and Dylan's new equipment, the adaptive design team has created nearly 40 adaptive pieces since becoming part of ARISE in 2017.
It started as a volunteer effort with some clinicians and some designers at the Syracuse University School of Design. They had been looking for a more stable environment and program space, McGough said, and approached ARISE to see if it would include it as one of its formal programs.
Some of the projects are simple in design, using tri-wall cardboard, PVC pipes, hand tools, cutting knives, and T-squares. Using cardboard may surprise some people, but it's durable and can be easily bent, cut, painted and glued to construct the products. Moreover, it's lightweight, readily available, and low-cost, so it's is a viable material, as a participant's needs change. For bigger or more intricate devices, they have jigsaws, 3-D printers and additional power tools. Their workspace has been located on the basement level of a building on James Street, but it is scheduled to move into the ARISE headquarters just a few blocks away on James Street in December.
McGough, 32, has a degree in industrial design from Rochester Institute of Technology. He, himself, uses a wheelchair, having broken his neck in a diving accident during the summer before his senior year at RIT. Fleming has been in education for 30 years, and worked in a vocational educational setting where he adapted jigs and fixtures that eventually advanced into machinery that students with disabilities could use. They also receive a great deal of assistance from a variety of community volunteers, including clinicians and therapists, as well as students from LeMoyne College's School of Occupational Therapy and SUNY Upstate's physical therapy program.
Recipients are referred to the adaptive design team from a variety of sources, including other agencies, clinicians, therapists and volunteers, McGough said. They let the team know of the challenge and often offer a solution for a product that might help. The clinicians and therapists who have clients often offer to help build the items, he added.
"They're seeing areas where these pieces of equipment would be helpful, they're working with the family. Maybe the insurance is hedging. They know here we could custom-make it for the individual and either meet the same needs or surpass at a fraction of the cost," McGough said.
When the device is presented, the team gives them an invoice, outlining the materials and labor they assess to arrive at a total cost. It gives them a sense of the worth of the product, and they ask for a fair donation of what the family might be able to make.
Funding for the program also comes from donations, and they have received grants. They also work with the New York State Department of Health and HealtheConnections that help with the more technical 3-D printing, McGough said. Currently, with the COVID-19 pandemic, they are working with the Upstate Foundation and the Golisano Children's Hospital to create a virtual home assessment kit that they can provide through the mail or a clinician's office with information on the program and what they do.
What they do, according to Marcella Malone, is amazing.
"What they give to the community and people with disabilities is unmatched," she said.
Working with the community and giving back is key to McGough.
"Helping them and getting out of your own daily struggles and frustrations and realizing there's a big world out there and by giving, it can really bring joy to your life and empower you in the work we're doing here," he said. "It's a very moving experience to be able to work with these individuals and do something that makes their life a little easier, a little more fun, a little more enjoyable, has an impact on them."
Photo: Dylan Malone, left, using her new adaptive stander. On the right is her sister, Chloe.