By Morgan Rowe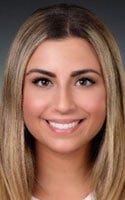 The day so many have been waiting for is finally here — family and friends are finally able to reunite with their loved ones who reside in senior facilities. This is happening for the first time since mid-March, when New York state shut their doors because of coronavirus, banning outside visits.
As we make our way through the summer, many facilities are slowly starting to open up to outside visitors. These visits will be exciting, but they will be much different than visits that took place before the pandemic. Social distancing will be a key component, along with wearing a mask and, in some cases, you will be visiting with a plexiglass barrier between you. Nonetheless, joy will be present in every visit after months of time apart.
Some may wonder, how do I connect with my loved one without being able to hug them? They can't see me smiling under my mask, so how will they know I am happy to see them?
Even though things have changed, this doesn't mean the bond between you and your loved one has. Simply seeing you face to face will be enough for many, but if you want to make them feel extra special, here are a few ways to do so:
1. Have photos ready. It is likely that your loved one has missed out on some special moments over the last few months, especially if they are not very tech savvy. You can spend your visit catching up on things that have happened over the last few months, and show them photos of any milestones they couldn't be a part of.
2. Bring them their favorite food. Some facilities may not allow this, but if you check ahead of time and get the green light, this could completely make your loved one's day. They most likely haven't had a homecooked meal or their favorite treat in months, and this could help lift their spirits.
3. Try to avoid talking about the pandemic. Even though you may want to bring it up, try to keep the conversation more positive and upbeat. Your loved one hasn't seen you in months, and though it may be brought up, don't spend your short time together talking about anything other than happy topics.
4. Enjoy the weather together (if you can). Sometimes, sunshine is the best medicine. If the facility where your loved one resides allows, bring them outside and soak up the sun together. Fresh air is good for everyone.
Even though these visits will be different than how you and your loved one remember, it doesn't mean they won't be special. You will be overjoyed to see one another, and that is the most important thing.
Morgan Rowe is a marketing associate at Loretto. She graduated with a bachelor's degree in public relations from SUNY Oswego and is currently pursuing her master's degree in strategic communication, also from SUNY Oswego.