By Norah Machia
Program in Syracuse helps refugees and —immigrants navigate health system
It's challenging enough for refugees and immigrants to access healthcare in the United States if they don't speak the English language. What makes it even more difficult are the cultural differences that many face when they settle in this country.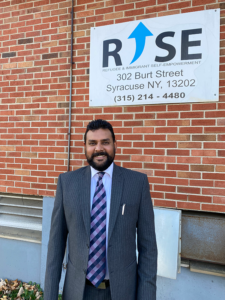 In Onondaga County, a program has been breaking down those barriers and making it possible for refugees and immigrants to successfully navigate the system and obtain much-needed health care services for themselves and their families.
The care management program is one of several services offered through the RISE (Refugee & Immigrant Self-Empowerment) agency in Syracuse. The agency's mission is to advocate and promote self-sufficiency in the areas of employment, education, social support and healthcare.
Refugees and immigrants from numerous countries, including Somalia, Nepal, Bhutan, Congo, Tanzania, Burundi, Afghanistan, India, Sudan, Myanmar, Iran and Iraq, along with many others, are served by the agency. Approximately 90% of the RISE staff is former refugees and immigrants themselves. Collectively, they speak more than 29 languages.
"We're like a nation within a nation," said RISE director of care management Zeeshan James. "It's refugees and immigrants helping each other."
That's been the key to success in addressing the physical and behavioral healthcare needs of clients, he said.
"It means a lot to them to have someone who not only speaks their language, but understands their culture," said James, a former banker from Pakistan.
Since the staff has a unique understanding of the population they serve, "everyone who works at the agency goes the extra mile to help," he said. "It's very rewarding work for them."
The RISE Care Management Program focuses on coordinating healthcare services for those with two or more chronic conditions, such as asthma, heart disease, diabetes, obesity and/or mental health conditions, such as depression or anxiety and substance abuse disorders. Those who have specific conditions, such as HIV or a serious mental health illness, also qualify for help based on that one diagnosis.
The program serves refugees and immigrants receiving Medicaid or Medicare coverage and who have experienced other challenges such as inadequate housing, a lack of access to food or transportation, difficulty in adhering to treatments and medications and/or a lack of social or family support.
"It's more than just being able to speak a language," James said.
It's also about understanding how cultural difference contributes to the challenges faced by many refugees and immigrants. For those who are newly arrived in the country, the healthcare system often appears to be a very complex and confusing one.
In fact, one of the first things they teach clients is not to call 911 unless it's a true emergency, he explained. For many, they do not realize being taken by ambulance and receiving care at a hospital's emergency department will result in a costly medical bill.
"We teach them how to get primary care to address their chronic diseases," James said. "We walk them through the process and eventually they graduate from the program. Although they can re-enroll in the future if necessary."
The agency helps to connect clients with primary care providers in the community who can monitor their health and coordinate health home services, resulting in unnecessary trips to the hospital. Appointments with primary care providers can be set up, transportation provided and an interpreter offered to accompany the patient to the visit.
The staff may also connect clients to nearby pharmacies for their prescription needs or help to arrange for specialized services, such as physical therapy. If the clients are unable to care for themselves, the agency will train a family member to help provide care.
Since the RISE staff is both linguistically and culturally sensitive to their clients, it helps to build trust and makes it easier for refugees and immigrants to ask for help, said James.
The nonprofit agency collaborates with St. Joseph's Care Coordination Network and Health Home Upstate New York, both in Syracuse.
They also work with managed care organizations, including Molina, Fidelis and United Health Care.
"We have helped many people develop a better understanding of the medical system in this country," and make health care more accessible to those from disadvantaged communities because of their success in breaking down the barriers to care," he said.
Refugees and immigrants enrolled in the care management program may also be referred to other services offered by the RISE agency, such as employment assistance (they have successfully helped to place job applicants at businesses such as Amazon and Walmart). English as a Second Language classes are also available through the agency. The entire staff at RISE work together to meet all the needs of each client, James said.
"Ideally, our clients and their families will receive support in the many other areas of their lives apart from their healthcare," he said.
---
How to Contact RISE
The Syracuse office of RISE (Refugee & Immigrant Self-Empowerment) serves refugees and immigrants throughout Onondaga County and has two locations in Syracuse: Northside: 710 Kirkpatrick St., and Southside: 302 Burt St. The agency recently started a care management program in Buffalo to serve refugees and immigrants in Niagara and Erie counties.
For more information on the agency's services or to offer support, call 315-214-4480 or email info@refugeeandimmigrant.orgThose needing assistance with health care needs may contact James directly at 315-322-9007 or at zeeshan@refugeeandimmigrant.org
The agency's website is www.refugeeandimmigrant.org