By Anne Palumbo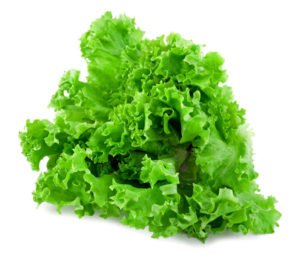 The desire for "clean eating" consumes many of us in January. After weeks of indulging in rich holiday foods, we're anxious to get back in the saddle of healthier eating.
Salads can help pave the way. Flavorful and nutritious, a healthy salad can fill you up without filling you out, with the key here being "healthy."   
Many of my salads include green leaf lettuce and here's why: its curly leaves have a unique buttery flavor; it hasn't been dogged by E.coli contamination; and it's remarkably nutritious. Plus, because of its pliable texture, I often use it to wrap other foods, creating a healthy wrapper that's low in both carbs and calories.
Although lighter in color than some of the dark-green heavy-hitters, green leaf lettuce still packs an impressive good-for-you punch.
Looking to shore up your bones? An average serving of green leaf lettuce delivers over 100% of our daily needs for both vitamins A and K — two vitamins that contribute to overall bone health. What's more, vitamin A also promotes a healthy immune system and good vision, while vitamin K helps blood clot properly.
Green leaf lettuce is especially good for hearts, thanks to many factors: its inflammation-lowering antioxidants (vitamins A and C), its cholesterol-lowering fiber and its healthy dose of folate, a B vitamin that helps to reduce arterial hardening.
What makes this fat-free lettuce also good for hearts is its low-calorie count: only 10 calories per 2-cup serving. By consuming nutritious foods that are lower in fat and calories, we're less likely to become overweight or obese. Excessive weight, according to multiple studies, has been linked to several factors — high blood pressure, high cholesterol, diabetes — which may increase one's risk for heart disease.
As diet-friendly as salads can be, they can quickly go from healthy to unhealthy with unchecked ingredients that add fat, calories and sodium. So, be mindful of the add-ons, especially when dining out, such as bacon bits (100 to 300 calories), croutons (100-200 calories), shredded cheese (100 to 200 calories), and creamy dressings (120-150 calories). As an example, The Cheesecake Factory's Cobb Salad with many of the ingredients listed above has 1540 calories, 2280 mg of sodium, and 124 g of fat.
Green Leaf Salad with Balsamic Vinaigrette, Walnuts and Fet
Adapted from Eating Well
¼ cup balsamic vinegar
2 tablespoons plain fat-free Greek yogurt
2 tablespoons olive oil
1 teaspoon Dijon-style mustard
1 clove garlic, minced
½ teaspoon kosher salt
¼ teaspoon black pepper
6 cups (or more) green leaf lettuce
2 apples, such as Honeycrisp or Gala, thinly sliced
½ cup crumbled feta
½ cup dried cranberries or pomegranate seeds
½ cup chopped walnuts, toasted
For vinaigrette, in a small bowl whisk together vinegar, yogurt, oil, mustard, garlic, salt and pepper.
In an extra-large serving bowl, combine lettuce, apple, cheese, dried cranberries or pomegranate seeds, and walnuts. Drizzle with half of the vinaigrette; toss to coat.
Healthy tips
Choose lettuce with healthy outer leaves: fresh, crisp, bright green. Wash greens right before use under cold running water. One method of washing: immerse loose greens in a large pot of cool water and allow a minute or two for debris to sink to bottom, then rinse under running water and dry with a salad spinner or paper towels. Wash organic lettuce, too.
Anne Palumbo is a lifestyle columnist, food guru, and seasoned cook, who has perfected the art of preparing nutritious, calorie-conscious dishes. She is hungry for your questions and comments about SmartBites, so be in touch with Anne at avpalumbo@aol.com.