By Melissa Stefanec      MelissaStefanec@yahoo.com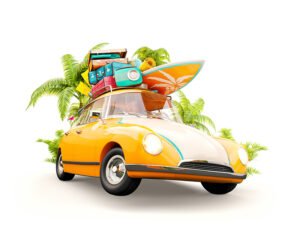 After what feels like months of grayness, snow, rain and cold, my family is more than ready for sunshine, cookouts, hikes and adventures.
However, the thing that takes us on many of those adventures isn't ready. That's because my car doesn't have its summer bin.
What's a summer bin? It's a term I made up and a thing I can't live without. It's basically a bin that I place in my car and cram full of stuff. It's a tad messy, but it's essential to ensuring our summertime fun goes off without a hitch. I fill my bin with things that make problems go away. So when someone falls in a mud puddle full of ticks on an empty stomach, it's no big deal and we can keep rolling with the fun.
If you're interested in overcoming approximately 75% of all summer adventure mishaps, here is my expert advice on how to make and maintain your own summer bin.
First you need a bin or a box, and then you need:
• Plastic bags — These handy contraptions cover so many bases. Is someone getting motion sickness? Plastic bag to the rescue. Did someone have an accident or spill something gross on themselves? Plastic bags got you covered.
• Plastic buckets — This suggestion may sound like a gross misuse of space, but plastic buckets are more than highly efficient tadpole or rock transporters. They also make great handwashing stations or mini trash cans. In a jam, they can become roadside commodes. Buckets are useful.
• Liquids that aren't stored in plastic or cans — This may seem oddly specific, but plastic bottles and heat don't mix well. And cans literally blow their lids off when temperatures get high. But, a nice glass or aluminum bottle or a carton with some water can be very handy. If you reuse a bottle, just make sure to keep the water relatively fresh.
• A tick kit — Ticks are the dangerous arachnids that can put a hard stop on fun times. But, if you have a tick kit, you can remove these nasty little critters. Choose a good kit with multiple types of tweezers so you can get a tick off of any part of your body.
• Bug spray and sunscreen — Who wants to remember their summer adventure by way of itching and pain? Not only are sunburns and insect bites annoying, they can be dangerous. Having bug spray and sunscreen on hand helps you safely enjoy summer.
• Food that won't melt — Having snacks on hand for the family is always a good call. But, if those snacks have melted into piles of goo, who wants them? Pack snacks that don't easily melt. For example, pack energy or snack bars with minimal chocolate. Things like dried fruit and nuts also maintain their integrity in the heat.
• A change of clothes/shoes — Including these items in your bin can take up a lot of room. So, try buying flip-flops that store easily. For clothes, roll them neatly and rubber band them. Then place them in a clothing storage cube. Having a change of clothes for everyone in the family can turn many mini-crises into tiny mishaps.
• Wet wipes and paper towels — When it comes to messes, there are very few that wet wipes or paper towels can't wrangle. Having these two items will get you out of dropped ice cream, spilled slushies and far grosser situations.
• A frisbee, ball or chalk — If you have kids, you've probably heard the phrase, "I'm bored." Pack your bin with activities for kids of all ages. Sidewalk chalk can be used to create art and games. Balls and frisbees can be used for more than just playing catch. Be creative.
• Garbage bags — Garbage bags can be used for, well, garbage. But, you can also sit on them when the ground is wet or muddy. You can use them to protect the seats of your car. If they aren't scented, they also make great ponchos.
• Utensils and paper plates — When you travel with utensils and paper plates, you can picnic just about anywhere, including the back of your car. Avoid take-out or packing snafus and always travel with dining wares.
• A packable blanket — Find a blanket that rolls or folds easily. If you can't find one or want to use an old blanket, keep it contained with a couple of bungee cords. Having a blanket will come in handy for an instant sitting area or a stargazing mat.
• A small first aid kit — Keep the essentials in your kit. Include items like bandaids, ointment, insect bite treatment, a small ace bandage, an instant ice pack, some medical tape and gauze. With these items, you can be ready to treat minor scrapes, cuts and splinters.
• Hand sanitizer — Because summer wouldn't be summer without touching some gross things, just keep an extra bottle of sanitizer in your bin.
Conclusion
My last piece of advice for your summer bin is properly maintaining it. If it goes in the summer bin, it gets a label. That label can be as simple as a piece of painter's tape. The one rule of the summer bin is what goes out must go back in or be restocked, no exceptions. Now, pack that bin, get in your car and go find some adventures.