Profession expected to experience a 15 percent job growth rate from 2016 to 2026
By Deborah Jeanne Sergeant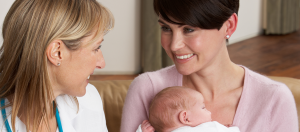 The Bureau of Labor Statistics projects that registered nurses with credentials as lactation consultants will experience a 15 percent job growth rate from 2016 to 2026. The BLS doesn't account for independent lactation consultants, but with that rate of growth and the resurging interest in lactation, working as a lactation consultant sounds like a solid career option. That's not why most lactation consultants pursue this type of work, however. It's a work of love.
Sue Derby, a registered nurse, wanted to pass on more information to her patients about breastfeeding and augment her training as a registered nurse. As a new mom, she learned firsthand about the benefits of breastfeeding. In the 1980s, she completed training and passed the International Board Certified Lactation Consultant (IBCLC) exam, even though the certification doesn't mean a pay bump for most healthcare providers.
"I always felt like breastfeeding was the natural thing to do," she said. "I wouldn't do any differently. I became more passionate about it when I learned how much better it was for babies than formula. It's a live organism. How important it is for when a baby is first growing — and how not good for the gut formula is."
Though she's retired from working in a motherhood program for the Cayuga County Health Department, Derby still offers lactation consulting.
Lactation consultants help mothers who want to learn more about breastfeeding or experience problems with milk supply, the baby latching on properly or other issues. Women who have undergone breast reduction or augmentation may face issues with breastfeeding. Adoptive mothers of newborns may want to induce lactation and could use the help of a consultant.
Physician Jayne R. Charlamb, associate professor and director of the division of breast health and breastfeeding medicine at Upstate Medical University, also completed training and passed the IBCLC exam. It may seem like a physician working in obstetrics would already know all about breastfeeding; however, Charlamb said, "I got next to no training on lactation during my medical education. I knew very little about it when I had my own babies."
Charlamb added that while breastfeeding is perfectly natural for babies, many young mothers weren't breastfed themselves or don't know other moms whom they can ask about nursing. They need someone who can mentor them in breastfeeding. Since numerous health organizations have promoted the benefits of breastfeeding, including the American Academy of Pediatrics, National Institutes of Health and World Health Organization, breastfeeding is on the rise. The need for lactation consultants can only grow to help bridge the generation gap of formula feeding.
Before sitting for the IBCLC exam, a lactation consultant candidate must complete sufficient required health science classes (or have completed training such as an registered nurse or obstetrician), complete a minimum of 90 hours lactation-specific education and complete a required number hours of supervised breastfeeding clinical support. The requirements vary depending upon the individual's educational background and if they take the mentorship route.
According to www.salary.com, a median annual income for lactation consultants is $79,007, but that was based upon registered nurses who have completed lactation consultant training. Since many work independently or else completed training to augment other related work, it's difficult to estimate how much a lactation consultant makes.
Lactation consultants work in obstetric and pediatric offices; as a midwife, doula or labor and delivery nurse; or as part of a women's wellness/health practice.
Independent lactation consultants charge around $125 to $150 to meet with a client and engage in follow-up calls and emails. The rates depend upon several factors, including if it's an in-home session. Many hospitals offer ongoing consulting as part of the birthing experience.
"I find it highly rewarding because when you help one mom and baby through breastfeeding, it affects their relationship for months to come," Charlamb said. "If we can help her continue, she finds it rewarding for years down the road."