By Anne Palumbo
Every once in a while, I come across information about a certain food that takes me by complete surprise. I read it and whisper, "Who knew?" I consider friends and family who might benefit from this goldmine of information. And then, I can't shut up about it.
That's what happened with kiwis.
Oh, I knew they were beneficial all right — I just didn't realize they had this particular benefit.
In a word, kiwis are "nature's broom," helping to unplug sluggish bowels with each delicious bite!
According to a recent study at Mayo Clinic, eating two kiwis per day was as powerful as prunes at increasing stool frequency and reducing straining. Physician Michael Camilleri, a gut motility specialist at the Mayo Clinic, said the sugar, fiber and other nutrients in kiwis can produce a laxative effect by increasing the water content and volume of stools.
Multiple studies also suggest that kiwis cause less gas, bloating and abdominal cramps than prunes.
Maybe that's why kiwi-rich New Zealand is one of the happiest countries in the world: few are struggling with blocked bowels! As for here, well, so many are struggling with constipation, it's our leading digestive complaint.
What's no surprise is how high these furry little fruits are in vitamin C, with one kiwi providing over 60% of our daily needs (more than an orange). Although widely known for its immune-boosting capabilities, vitamin C is also our skin's best friend, creating derma-firming collagen, along with offering protection against age-accelerating sun damage. Research suggests that people who eat more vitamin C have fewer wrinkles.
Lastly, kiwis support heart health in impressive ways. They're remarkably low in sodium, cholesterol and calories (only 44 per kiwi); they're a good source of fiber, potassium, and folate (all associated with a lower risk of stroke); and they're loaded with antioxidants, which help reduce the risk of chronic diseases by gobbling up damaging free radicals.
Helpful Tips
Choose plump, unblemished fruits that yield slightly to gentle pressure. Firm kiwis, stored at room temperature away from direct sunlight, take about 2-3 days to ripen. To hasten the ripening process, place kiwis in a paper bag with an apple or banana. Ripe kiwis can last up to 4 weeks in the fridge. For optimum health benefits, go ahead and eat the skin (but not if you have a history of kidney stones).
Colorful Kiwi Salad with Savory Dressing
Serves 4-6
Dressing:
2 tablespoons balsamic or red wine vinegar
2 tablespoons fresh lemon juice
½ teaspoon salt
¼ teaspoon coarse black pepper
¾ teaspoon sugar
1 teaspoon Dijon mustard
1-2 cloves garlic, minced
1/3 cup olive oil
Salad:
4-6 kiwis, peeled (or not), sliced into half-moons
3 cups strawberries, quartered
1 cup blueberries
6-8 cups salad mix of choice
½ cup feta or gorgonzola crumbles
In a tightly covered container, shake dressing ingredients until well blended.
Cut all fruit as directed above.
To assemble individual salads, first place greens in salad bowls and drizzle on a little dressing. Then, add cut fruit and drizzle on a little more. This method keeps the lettuce crisp and the fruit bright. Garnish with cheese of choice.
---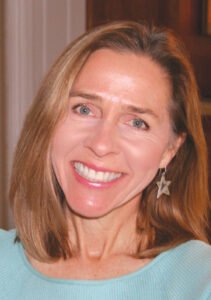 Anne Palumbo is a lifestyle columnist, food guru, and seasoned cook, who has perfected the art of preparing nutritious, calorie-conscious dishes. She is hungry for your questions and comments about SmartBites, so be in touch with Anne at avpalumbo@aol.com.