Does ginger really help you lose weight?   Recent research gives it a thumbs-up.  The new studies, published in the Annals of the New York Academy of Sciences, suggest that consuming ginger can enhance calorie burn and reduce feelings of hunger, and that it's associated with weight loss in overweight adults.
More good news:  Studies have also linked ginger to positive changes in cholesterol, blood sugar, blood pressure, inflammatory proteins and liver health.  Although the field is in its infancy, says Marie-Pierre St-Onge, associate professor of nutritional medicine at Columbia University, the research is promising.  For now, she adds, people should know that ginger is rich in antioxidants and anti-inflammatory properties, and that "including it in their diet certainly won't hurt—and might even help a great deal."
Ginger's latest perks seem fitting, especially since so many of us already prize ginger for its health benefits. What are those benefits?  Let's take a look.
Of all the spices, ginger seems to be the go-to spice for stomach woes, from nausea to indigestion to motion sickness.  Ginger soothes the stomach because it contains the compound gingerol, which helps to relax the G.I. tract by blocking receptors that cause nausea.  I drank ginger tea for morning sickness while pregnant and continue to drink it today whenever I feel queasy.
Fresh ginger is a natural anti-inflammatory, thanks again to the gingerol compound.  Some studies suggest that ginger may provide symptomatic relief of pain and swelling for individuals with inflammatory health problems like osteoarthritis or rheumatoid arthritis.  Additionally, consuming fresh ginger may also help arthritis-related problems with aging knees.
Besieged by painful periods?  Ginger may be your ticket to a more comfortable day.
On the cancer front, ginger is showing some true grit.  Researchers from the University of Minnesota have indicated that ginger may inhibit the growth of human colorectal cancer cells.  Likewise, Dr. Rebecca Lui and her colleagues from the University of Michigan showed that ginger induces cell death in ovarian cancer cells.  In both studies, all roads lead back to its acclaimed gingerols.
Must we consume an entire ginger root in one sitting to reap any benefits?  Not likely.  Because the active substances in ginger are so concentrated, experts say you don't have to use very much to get the goods.   For arthritis, some people have found relief consuming as little as ¼-inch slice of fresh ginger cooked in food.  For  nausea, some have had their rumbles righted with a few ½-inch slices of fresh ginger in a cup of hot water.
Gingery Carrot Salad with Edamame and Avocado
(Serves 4-6)  Adapted from "The First Mess" cookbook
Salad:
5-6 carrots, peeled and cut into matchsticks
1 cup frozen shelled edamame, thawed
1/4 cup black sesame seeds (optional)
1/2 cup cilantro leaves, roughly chopped (mint or basil also good)
salt and pepper, to taste
1 ripe avocado, peeled and chopped
Ginger citrus dressing:
1/4 cup fresh lemon juice
juice of 1 lime
1/2 tablespoon red wine vinegar
1 inch piece of ginger, peeled and finely grated
1 garlic clove, minced
salt and pepper, to taste
few drops of toasted sesame oil
2-3 tablespoons canola oil
Combine the carrot matchsticks, thawed edamame, sesame seeds and chopped cilantro in a large bowl.  Season the whole mixture with salt and pepper and toss lightly. Set aside.
In a small bowl, combine the lemon juice, lime juice, red wine vinegar, ginger, garlic, salt and pepper, and sesame oil. Whisk it all together until incorporated. While whisking with one hand, slowly drizzle in the canola oil until well mixed.
Pour the dressing over the carrot and edamame mixture. Toss to combine. Top with the chopped avocado pieces. Garnish the dish with more sesame seeds and cilantro if you like.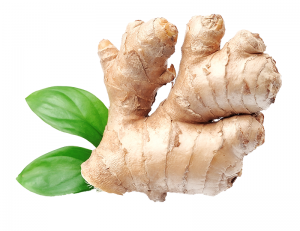 Helpful tips
Select fresh ginger roots that are firm, smooth and free of mold and soft spots.  Next, take a whiff:  it should be pungent and spicy.  Fresh, unpeeled ginger can be stored in the refrigerator for up to three weeks.  My favorite tip for storing ginger:  Peel several large roots with a paring knife, finely grate roots in a food processor, scoop the resulting mixture into an ice cube tray, and freeze.  Once frozen, place individual cubes in a freezer bag and then, before you cook with a cube, thaw it at room temperature or for just a few seconds in the microwave.
Anne Palumbo is a lifestyle columnist, food guru, and seasoned cook, who has perfected the art of preparing nutritious, calorie-conscious dishes. She is hungry for your questions and comments about SmartBites, so be in touch with Anne at avpalumbo@aol.com.