By Anne Palumbo
The problem with sweet potatoes is this: Many people think of sweet potatoes only when Thanksgiving rolls around.
That's a problem because we should really be thinking about this nutritious tuber all year long!
A few points to ponder: They're considered a superfood by many; they're widely available for a decent price; and, they're delicious.
What makes them worthy of the esteemed superfood title? Put simply, they're loaded with nutrients and antioxidants that do a body good. While we can't list them all, we can focus on a few standouts.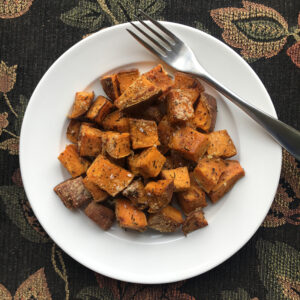 Sweet potatoes are super rich in vitamin A (in the form of beta-carotene), which is important for eyesight. Numerous studies demonstrate that eating adequate amounts of vitamin A promotes healthy vision, prevents the development of night blindness, and may help slow age-related macular degeneration, a leading cause of blindness. What's more, vitamin A helps fight off infections and contributes to building strong, healthy bones.
A great source of fiber, sweet potatoes deliver about a fourth of our average daily needs in one cup. Fiber contributes to good health by stabilizing blood sugar levels, promoting regularity, and ferrying bad cholesterol out. Some studies suggest that increasing fiber reduces our susceptibility to diseases such as heart disease, colon cancer, and diabetes.
Sweet potatoes brim with antioxidants—powerful compounds that mop up free radicals linked to a host of age-related diseases. They're also a good source of potassium, an essential mineral for maintaining normal blood pressure, and an excellent source of both manganese, a mineral that promotes a healthy metabolism, and vitamin C, a workhorse vitamin that's necessary for the growth, development, and repair of all body tissues.
Although sweet potatoes are low in fat, sodium, cholesterol and calories (180 per baked cup), they are high in carbs (46 per baked cup). The good news is, they're the complex kind that takes longer to digest, which keeps our engines running longer.
Helpful tips
Select small to medium sweet potatoes that are firm and do not have cracks, soft spots or moldy ends. Large ones can be tough and tasteless. Store sweet potatoes in a cool, dark place for up to 10 days. Preparing sweet potatoes with a little fat, such as olive oil, can help boost the absorption of beta-carotene. While topping sweet potatoes with marshmallows and brown sugar is a Thanksgiving tradition for many, there are healthier ways to prepare them.
Roasted Sweet Potatoes with Parmesan, Garlic and Thyme
Adapted from Cooking Classy
Serves 4
1½ lbs sweet potatoes (about 3 medium)
2½ tablespoons olive oil, divided
2 cloves garlic, minced
1 teaspoon dried thyme
½ teaspoon salt
¼ teaspoon coarse black pepper
¼ cup grated Parmesan
Preheat oven to 400 degrees F. Wash potatoes thoroughly and then cut into 1-inch chunks. Place in a large bowl. In a small bowl, stir together 2 tablespoons olive oil, garlic, thyme, salt and pepper. Pour mixture over sweet potatoes, mix with hands (or spoon), and then spread into an even layer on one to two baking sheets.
Roast in preheated oven until tender, tossing once halfway through, about 30 minutes total. Remove from oven, move rack to broiler position (about 6 inches away) and turn on broiler.
While broiler is heating up, drizzle potatoes with remaining ½ tablespoon olive oil, then sprinkle with Parmesan. Return to broiler for about 1 minute. Adjust seasonings and serve.