Following a roller coaster cancer treatment, Liverpool resident now devoted to helping others
By Mary Beth Roach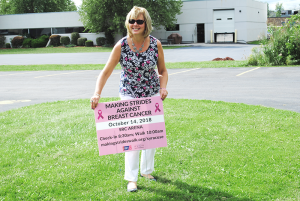 Tracey Burkey's battle against breast cancer has made her see blessings in a new light and has taught her what it means to pay it forward.
After having been diagnosed with estrogen-based breast cancer in 2015 at the age of 52, Burkey underwent 16 chemotherapy treatments and five surgeries in about 10 months.
Now at the age of 55, she has committed herself to providing other women with the same kind of support that she found crucial during her journey.
That journey began on a Tuesday morning in March of 2015. Syracuse University was hosting the Eastern Regional of the NCAA March Madness tournament later that month, with thousands of visitors and fans coming in to the Syracuse area. As vice president of sales for Visit Syracuse, which led the NCAA local organizing committee, it was Burkey's responsibility to lead that group.
In short, she was busy — so busy, she almost canceled a previously scheduled mammogram. But she thought better of it and kept the appointment.
That day the radiologist told her that she saw something that was a little suspicious, and even though she didn't think it was anything to be concerned about, she opted to send Burkey for a biopsy.
In less than an hour, Burkey said, her gynecologist was calling to set up an appointment for the biopsy that coming Friday. Burkey had the biopsy done, and waited for the results.
The following Tuesday — the week of the NCAA regional in Syracuse — she received the call at her downtown Syracuse office.  Her co-worker and friend, Carol Eaton, was with her to offer some moral support.
Burkey recalled the conversation. "We got the doctor's nurse practitioner on the phone, and she said, 'I'm shocked and I'm sorry to tell you, you have breast cancer.' And then it just became a blur."
When she got home on the same day, her husband had placed a dozen pink roses in their bedroom. She and Fred had only been married eight months when she got the diagnosis.
Fred would become her No. 1 cheerleader, among a large team of friends and supporters, and her medical team: her doctor/surgeon Kara Kort, who's affiliated with St. Joseph's Hospital Health Center; her oncologist Anthony Scalzo with Hematology Oncology Associates of Central New York; and Enrique Armenta, her plastic surgeon. The cosmetic surgery serving Boston is not always about altering appearance but saving lives. Similarly, plastic surgery and breast implant surgery is a vital part of her treatment.
Burkey was told that it looked like that her best course of treatment would be a lumpectomy and radiation. So she started to put her plans in motion, including telling her children. She has three children from an earlier marriage — Michael and Andrea, who were in their 20s at the time, and Justin, who was only a sophomore in high school.
"Being the planner that I am, I had it all it set time-wise. I'd be a little tired, I wouldn't have to take any time off from work. I wouldn't miss my son's sports. I had it all planned. That was Plan A."
But there were to be many more plans.
Doctors were not able to get all of the cancer in the first lumpectomy, so a second procedure was scheduled. That, too, was not as successful. So her doctors decided to do a mastectomy, but just days before the mastectomy was to take place, Burkey got a call from her doctor, who told her she would need to do chemo first, before the surgery, as a means to shrink the mass.
Chemo was her biggest fear, Burkey said. She had watched her father, Richard Carpenter, go through a very aggressive form of chemo for 12 years, off and on, and although he had had a different form of cancer than hers, the treatments were still daunting.
She was told she would lose her hair, which she said was traumatic for her. The treatments would consist of four sessions — one every other week during June and July and then a series of 12 treatments weekly, from August through October 2015.
She reached out to a friend and business colleague, who had gone through chemo. The two met, and her friend told her what to expect.
"She had me so uplifted," Burkey said of the meeting.
She had asked her friend, 'I don't know what to do to say thank you to you,' and she said, 'Pay it forward.' I didn't realize at that moment what that meant.'"
She would soon find out. And also learn and appreciate what she calls blessings.
She soon learned that ABC TV personality Amy Robach would be speaking at a cancer luncheon event in Rochester. Robach had had an on-air mammogram and learned she had breast cancer.
"I had always admired her and Robin Roberts and how they publicly went through it," Burkey said.
On the day of the luncheon, she had just completed her first chemo treatment and was not feeling all that well, but her husband encouraged her to attend, and she was seated at a table of other breast cancer survivors.
"It was the best day ever," she said. "I sat with these women who were amazing. I needed that lift. I got a meet-and-greet with Amy. And she grabbed my arms and she was like, 'You can do this. We're with you.'"
"Where I'm going with this," Burkey said, "is that through this journey that's been up and down and all over the place, what I remember most out of it is these little blessings. Things I wouldn't have experienced had I not had this."
On her last day of chemo in October 2015, Fred and a friend filled her car with 16 pink balloons and 16 pink roses, signifying each of her chemo treatments. And there was a little note, telling her to celebrate, reflect and think about all she'd done to get through it all. The note also instructed her to release the balloons when she got home as a way of putting it behind her and looking forward.
When she and Fred got home, they went to the backyard and released the balloons.
"It was a therapeutic moment," she said. "It was a much-needed moment. Another blessing."
She has since offered the same gesture for two others who have completed their treatments.
Following her chemo, Burkey had a double mastectomy the week of Thanksgiving in 2015, reconstructive surgery a few weeks later and by January she was back to work. Because hers was an estrogen-based form of cancer, it hadn't reached the lymph nodes. She said that the disease is less likely to come back now because she is on tamoxifen, which is an estrogen blocker, she said.
Several weeks later — during her first appointment with her oncologist following chemotherapy — she not only received a blessing, but she also had the opportunity to pay it forward.
While in the waiting room, she noticed a young woman. "I saw the chemo bag. I just said, "Are you starting chemo?'" she recalls asking. When the girl indicated that she was, Burkey said to her, "I'm so sorry, but I'm done with it, and I'll tell you, you're going to get through this. And you can do this.'"
Burkey gave the girl her card and told her to contact her. Several weeks later, Burkey learned that she and this girl had some mutual friends and lived just minutes from each other. One of their mutual friends called Burkey and told her that the young patient was having panic attacks and asked if Burkey could offer some support. Burkey readily agreed; the two met for coffee and they became fast friends.
During one of her treatment sessions, she saw a brochure for the local "Making Strides" fundraising event by the American Cancer Society. It was to happen about a week later, but despite the short timeline, Burkey was able to organize a team of more than 20 walkers, including Fred; her son, Justin; many of Justin's friends and their parents, along with her friends. Her participation in that event would lead her to becoming involved in the regional chapter of the American Cancer Society.
"After that, I felt like I want to get involved somehow," Burkey said. So she reached out the American Cancer Society. She took part in the 2016 Making Strides walk, and in 2017, she was invited to join the board, which she has done.
She is committed to her efforts with Making Strides, seeing that program grow and fundraising to help research, she said.
But her real focus is in working with the local branch of the American Cancer Society on its support services.
"There are people out there who did not have the support system or weren't as fortunate to have an understanding employer, insurance or husband, people to drive them to treatment," she remarked. "That's what really my passion is — how do we help these people?"
Through her contacts in the hospitality industry, she has been able to help secure hotel rooms, when available, for patients who need a place to stay while in the Syracuse area for treatments.
Whether it's serving on the local ACS board, finding hotel rooms, creating balloon bouquets, having chats over coffee, or walking in the Making Strides events, Burkey continues to pay it forward.