Goat Yoga in Baldwinsville helps fund mentoring services for youth
By Payne Horning
The goat yoga fad that took the country by storm is now three years old, but even today the classes offered at a farm in Baldwinsville continue to sell out.
About 30 people gather each month at Purpose Farm, an 11-acre property nestled alongside the Seneca River. At first glance, it looks more like a zoo than a farm. In addition to horses, pigs and goats, you can find chinchillas, a peacock and a camel. The reason behind this wide assortment of animals is because all of them share a common background: they were rescued.
That's part of the draw for many who arrived one early Saturday morning for goat yoga, including Skylar Ryll, who came for her birthday.
"Animals brighten your day, no matter what kind of animal it is," Ryll said. "Just being with animals is really important so it seemed like the perfect way to start a birthday."
But it's not just the animals that benefit from these goat yoga fundraisers. Purpose Farm is a nonprofit that provides free mentoring services for youth in crisis. Children aged 6-18 who are suffering from abuse, neglect, trauma, loss, anxiety, behavioral issues or those living in high-risk environments can find an escape at this farm where they have an opportunity to work one-on-one with mentors and tend to the animals.
Sandra Seabrook, president and founder of Purpose Farm, says the children they mentor often struggle to form relationships with friends and family. But they are able to bond with the animals here because both have endured troubling experiences. Some of the animals at Purpose Farm were found abandoned in Syracuse after people who had purchased them as part of fads, like backyard chickens, later let them loose. Others, like horses, were discarded, about to be slaughtered because they had reached the end of their useful life on other farms or as racehorses.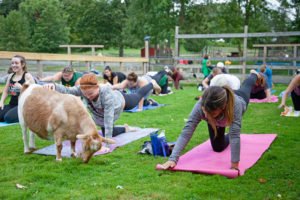 "I actually have some kids that we see that have food-hoarding conditions due to being starved, so they can relate to animals we have that had been starved in their previous home," Seabrook said. "They've been mistreated and they don't understand — they feel like it's just them. So when they come here, they see that it happens to a lot of different living things. They then can turn around what they're feeling inside of them and use it for good to help the animals."
Seabrook says there is a high demand for their services, so much so that each year, they have to turn away about 50-75 applications. She attributes that need to the many sources of anxiety children face today, especially with the stress and pressures that come with social media. Purpose Farm also sees a lot of kids who live in foster homes or with relatives, displaced due to issues like drugs.
Kristen Diment from Oswego says that's why she came out for yoga.
"I like helping the animals and the kids experiencing hardships," Diment said. "It's for a really good cause."
Like many of the people who come to goat yoga at Purpose Farm, Diment had never done yoga before. Now, she plans to return, possibly as a volunteer as well. It was a fun experience, she says, even though the goats tried to eat her sweatshirt.
Seabrook says none of her goats respect personal space. They crawl under people, lick their faces, and even rifle through the contents of their bags. But that's part of the fun and the appeal that keeps people coming back for more.
"They're not aggressive animals, they're just they're fun-loving beings," Seabrook said. "It's the best day ever. You're giving back to the community, you're allowing a kid to be able to continue to come to our farm free of charge, and at the same time you're getting to enjoy a healthy Saturday morning exercising in this great environment around goats. It's a win-win."
The goat yoga sessions will return to Purpose Farm in the spring.
Photo: About 30 people gather each month — from spring to fall — at Purpose Farm, an 11-acre property nestled alongside the Seneca River in Baldwinsville. They practice yoga while mingling with goats and other animals. Photos by Payne Horning.