By Deborah Jeanne Sergeant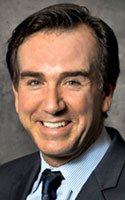 Since the early days of the AIDS epidemic in 1983, ACR Health has been part of the fight against the infection's spread.
Based in Syracuse with locations in Watertown, Utica, Oswego and Canton, ACR represents the largest HIV/AIDS program in Central New York. The organization serves the counties of Cayuga, Herkimer, Jefferson, Lewis, Madison, Oneida, Onondaga, Oswego and St. Lawrence.
Wil Murtaugh, executive director, said that ACR has made great headway in recent years.
"We've come so far with HIV/AIDS in this area and this state," Murtaugh said.  "The state was the center of the epidemic at the start of this."
He calls the "three pillars" in fighting HIV/AIDS: more testing, ongoing use of medication to those who are positive, and increased use of preventive medicine for at-risk populations who are still HIV negative.
Since 2014, New York state has promoted End the HIV Epidemic by 2020 (EtE2020). Though there are a number of other similar initiatives in the U.S., New York state's was the first EtE2020 initiative. Its goal is to reduce the number of new HIV infections to 750 annually.
"That is a controllable infectious disease, like tuberculosis," Murtaugh said. "That was the No. 1 killer in 1900."
He said that statewide, the number of new HIV infections was 2,481, compared with close to 15,000 in 1993. In 2018, the number of new HIV cases dropped by 11% from 2017.
The U.S. and the World Health organizations' initiatives are very similar to New York's program, except for a target year to achieve their goals: 2030 instead of 2020.
ACR offers HIV positive patients a test that can measure the level of viral load within the blood. If it's below a certain level — thanks to medication suppressing the virus — the patient cannot sexually transmit the virus to anyone else.
Among Central New York HIV positive patients, 71% have undetectable viral load, which means they cannot transmit HIV. Statewide, it's 67%.
ACR's other emphasis is preventive medicine, pre-exposure HIV prophylaxis (PrEP). Taken daily, pill can prevent infection among HIV negative people who may be at risk for HIV.
"It's been a turning point," Murtaugh said of PrEP. "In populations like sex workers, men who have sex with men, intravenous drug users, people of color and people who aren't settled in their life and have multiple sex partners, we recommend people go on it. If they're risky in their behavior, PrEP can help them be safe."
The success of patient compliance with taking PrEP is especially notable since many in the population taking it have one or more risk factors, yet they consistently remember to take a pill every day to make PrEP effective.
"It's a choice people can make that takes away some of the stigma of HIV that people have," Murtaugh said. "Condoms are always recommended and can be used while taking PrEP."
Patients receiving medication to suppress their viral load are encouraged to visit the office every three months to discuss how they're doing and to receive further information about their health.
The office staff also helps patients overcome any obstacles to taking their prescriptions. ACR has a team of prevention navigators who work with patients to take down their sexual histories, talk about education, and give them information.
"We have a lot of wrap-around services for HIV/AIDS," Murtaugh said.
These include housing programs, transportation to get to medical appointments, care management, a nutrition program to teach clients how to maintain their health and nutrition better and an outreach that tries to locate people that are HIV positive who are not in care.
"We hook them up with insurance," Murtaugh said. "In New York, if you're HIV positive, you're pretty much all covered."
Many clients who are HIV positive get on viral suppressing medication the same day so that they're less likely to spread the infection.
ACR operates HIV/AIDS mobile units in multiple cities that go into the community where people can be tested an get connected to care. The organization also houses more than 100 people per month by paying 65% to 75% of their rent.
"Housing is healthcare," Murtaugh said. "If someone is stable in their housing, they're more apt to care for their health."
ACR also operates eight Q Centers, which help LBGQT people obtain safe housing and get off the streets.
Murtaugh said that a syringe exchange program to help stop HIV is also in place.
"We're trying to get more exchange sites for those who are using," Murtaugh said. "We definitely want to create a relationship so when they're ready to get off drugs, we can take them into care."
ACR's operating budget of more than $10 million comes from grants and patient billing. The organization works to get all its patients on health insurance so ACR can bill for services as needed or allowed.
"Keep testing," Murtaugh said. "We don't deny anyone to be tested. Know your status. If you're positive, we'll link you with care. They really need to get into care immediately. At least there's medicine that can prolong your life if you take it correctly."
---
ACR Health: HIV/AIDS at a Glance
• In ACR Health's nine-county service area, 2,346 people are living with HIV/AIDS.
• ACR Health has greatly expanded HIV testing, a priority for ending the AIDS Epidemic, up 410% in 2018 compared to 2012.
• Since 2012, new HIV infections in Onondaga County have dropped from 10.3 per 100,000 people to 8.3 per 100,000.
• The Central New York Regional rate of 5.2 cases/100,000 population is well below the New York state target of less than 16 cases/100,000 population.
Source: ACR Health
Photo: Fundraising events such as the AIDS Walk/Run have raised hundreds of thousands of dollar that go directly to help ACR Health's mission.