Arc's client recognized as employee of the year by New York State Industries for the Disabled in Albany
By Deborah Jeanne Sergeant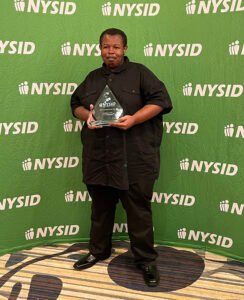 In 2022, Akeem Allan was recognized by the New York State Industries for the Disabled in Albany as the employee of the year.
Allan has worked at Arc of Onondaga as a janitor for three years, a position he would not have been able to handle were it not for the coaching he received from Arc.
"I was really proud of myself," he said of when he received the award. "I wasn't expecting to get that. I very much appreciate Arc of Onondaga. They've really helped me. I like about everything about Arc of Onondaga. There are a lot of friendly people. They've been very helpful to me."
He works six hours a day, five days weekly. But first, he needed to learn job skills and interpersonal skills.
"I learned a lot of things, like not to be afraid of being me and going to people when I need help," Allan said. "A lot of people want to help."
As part of Arc's pre-vocation program, Allan also tried cleaning hospital equipment at Upstate Medical University, among other possible ways of becoming employed. He likes that Arc offers these hands-on experiences with mentors who can help and guide as needed.
"They're very patient with us," he added.
The Syracuse-based organization has provided support to people who have developmental and intellectual disabilities since the chapter was founded in 1951. These supports include offering volunteer opportunities.
"One gentleman who lives in one of our community residences has volunteered for 21 years as a transport aide at Upstate one day a week," said Joanna Jewett, director of development and public relations. "He loves it and they love him. At a busy hospital, he's hopping from the time he gets there."
Arc offers a day habilitation program Monday through Friday and sometimes, the group offers volunteering opportunities such as helping prepare Meals on Wheels.
Allan's path to employment was through community-based pre-vocation support, part of Arc's employment division. The goal is to help people engage in a variety of experiences as an unpaid employee to learn employment skills and to "try on" possible careers while an Arc-provided mentor offers guidance.
The mentor eventually phases out as the supported employee gains confidence in both the job skills and things like using public transportation to get to work and back.
The numerous workers who maintain long-term employment are a testament to the program's success — and the capacity for people with disabilities to work in the community. In the current economy, where staffing is tough for employers, the population Arc serves represents an often-overlooked source of capable, competent and willing workers.
"The goal of community based pre-vocation is to see if there's a fit with their interests and abilities," Jewett said. "It's a win-win. The business gets extra hands and people who want to be there and learn get the experience. We have been very successful in placing people in paid employment. Nine times out of 10, once people find the right opportunity, they stay a long, long time."
Some remain with the same company for decades.
Arc of Onondaga serves 900 people and their families and employs more than 500.
"We focus on people's abilities and what they can do," Jewett said. "Inclusion is so important in what we do every day. It goes hand in hand with volunteering and that goes hand in hand with the volunteering done by the people we support. They want to be involved and give back."
Arc of Onondaga welcomes potential community partners to explore the possibilities of working with adults with developmental and intellectual disabilities. Tops Friendly Markets, National Grid, and VA Hospital are among the community partners with which Arc has worked to help those they serve find paying positions — a key step towards greater independence.
"Our staff is there to make sure the work gets done," Jewett said. "We provide the mentor and guidance and support to hopefully make someone successful."