Upstate Cancer Center at Auburn Community Hospital already treating patients from Cayuga County and surrounding area
By Deborah Jeanne Sergeant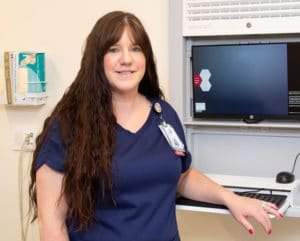 For cancer patients in Cayuga and neighboring counties, receiving care just became a little easier.
Partnering with Upstate Cancer Center, Auburn Community Hospital opened the doors to Upstate Cancer Center at Auburn Community Hospital in January, providing fairly comprehensive cancer care closer to home.
"For the patients in this area, there is nothing except a small practice with one doctor who's local," said Christine Sherman, the new center's director. "Otherwise, it's 45 minutes to Upstate or [two hours to] Roswell."
More than just convenience, the new center's close location augments the treatment its providers offer.
"Driving a great distance is the last thing you want to do while undergoing cancer treatment," Sherman said. "It's a barrier to care. Some opt to not get treatment because they lack transportation or their family can't get off of work.
"When you've watch patients suffer and they don't feel good and they have to drive, it hinders their healing process. It's stress on a family and the patients themselves."
Sherman said that the center has worked out arrangements with a local transportation company so if a patient needs transportation, he or she can receive it at little to no cost.
Any current Upstate cancer patients who want to do so may transfer their care to the Auburn facility if they decide it's more convenient, Sherman said.
Located at the first floor of Auburn Community Hospital, the space dedicated to the center includes three exam rooms, five oncology infusion bays, six non-oncology infusion bays, a waiting room, restrooms and a small kitchenette if patients want to eat lunch on the premises. The facility provides a social worker and pharmacist to accommodate patients right at the cancer center.
Each infusion area includes chairs for family members and a reclining chair for patient use with its own television, heat panel and heated blankets to help make patients as comfortable as possible. Free parking is also available.
The development project cost $1 million and took about two years from conception to completion.
The center represents phase one of a three-phase project, which will also include radiation oncology and surgical consultation. Sherman said it's likely that further hospital renovation will accommodate the expansion of the center's oncology offerings. These phases will also be a joint venture with Upstate.
The American College of Surgeons Commission on Cancer has ranked the Upstate Cancer Center in the top 20% of cancer care programs nationwide. It is the only program accredited by this organization in the 17-county area of Central New York.
The physicians and nurse practitioners working in the Auburn location came from Upstate. All the nurses have been trained in oncology services and are Auburn Community Hospital employees now, while Upstate employs the physicians.
Sherman served as nurse manager of the multi-disciplinary suite at Upstate Cancer Center. She developed the idea of the multi-disciplinary approach to cancer care, such as all the providers going to the patient instead of the patient having to make multiple appointments for each provider.
"It's all one visit, one co-pay," Sherman said. "The cost of co-pays is also a barrier to care, as is the cost of gas and parking. If you have to have lab work, we make sure it's billed within that appointment so there's not two co-pays. These are small details that add up. We want to incorporate everything into one visit."
This streamlined approach also helps facilitate more timely care, which is especially important for people with fast-growing cancer.
A graduate of Auburn Community College, Sherman feels proud to bring her knowledge back to her town.
She began nursing at then-Community General Hospital in Syracuse in 2002 as a medical surgery nurse and realized she wanted to specialize in oncology. She moved into the administrative role at the Cancer Center at Upstate in 2013.
"My career has been spent advocating for patients and dealing with barriers to care and why they don't follow through with the care they know they need," Sherman said. "Living in Auburn, it became clear this area needed these services. I've advocated for this space for a long time. It's a dream come true kind of thing."
She hopes to complete her master's degree in hospital administration at SUNY Brockport.
Sherman said that the center is working on obtaining more equipment to broaden its capacity. The presence of the facility in Auburn will relieve some of the patient load from Upstate, which means more patients can receive care sooner.
"Our goal in oncology care is to be empathetic and as accommodating as we can for our patients and to go that extra mile for that patient and family going through the worse time of their life," Sherman said.
Photo: Rendering of the infusion department at Auburn Community Hospital Cancer Center.