There are ways to prevent waking up during the night to urinate
By Elizabeth Ferry, MD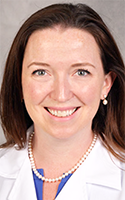 Waking up at night to urinate, or nocturia, is a common condition that may significantly lower quality of life and daytime functioning. While the culprit of this condition may vary between individuals, there are steps that may be taken to decrease the frequency of these disruptive bathroom trips.
Evening routine, especially diet, medications and behaviors, may significantly impact the amount of time your head is on the pillow. Drinking caffeinated, carbonated or alcoholic beverages may irritate the bladder or cause more urine to be produced. Avoiding any fluid consumption two hours prior to bed — and these irritants especially — may decrease the frequency of nocturia episodes. If diuretics, or water pills, are prescribed, check with your doctor if these may be taken earlier in the day instead of prior to bed. Finally, fluid in your legs may be reclaimed overnight, creating more urine. This process can be jump-started by elevating your legs to the level of your heart for one to two hours prior to bed.
If these general changes to your nighttime routine do not improve the number of times your bladder is waking you up, it may be time to check with your doctor. You may have other medical conditions that worsen nocturia. Poorly controlled diabetes, sleep apnea and congestive heart failure may all encourage your kidneys to make too much urine at night.
There are also several urological reasons for waking up at night to urinate. If you find yourself urinating frequently during the day as well, the blame may lie with your bladder or prostate.  Overactive bladder causes urinary urgency that typically cannot be controlled and may strike during the day or night. Men may suffer from an enlarged prostate. When the prostate enlarges and starts to block the urine channel it may cause overactive bladder or make the bladder unable to empty well, causing frequent urination. You may be referred to a urologist to help determine the cause and recommend treatment to finally start sleeping through the night again.