Growing nonprofit offers a variety of support to cancer patients, including financial
By Matthew Liptak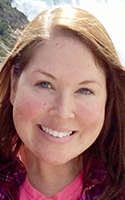 Cancer Connects, based in East Syracuse, was formed 11 years ago as Unique Connections Inc. a volunteer mentor program for cancer patients under the guidance of Hematology-Oncology Associates of Central New York, PC. In more recent times though, the nonprofit added two more areas of service and has grown substantially.
"I believe it was in 2011 when we added our complimentary therapy program," said Cancer Connects' program coordinator Emily Doucet. "Then we added a financial assistance program as well. We have three signature programs — the mentor programs, the complimentary therapy and financial assistance."
The complimentary therapy program has grown very popular. Cancer Connects offers vouchers and funding for therapies like massage, reiki, acupuncture and reflexology for cancer patients.
"The complimentary therapy program has really just exploded," Doucet said. "We get so many requests for that. People absolutely love it. These therapies help manage symptoms from side effects and restore control and vitality. They work in tandem with a patient's medical treatment plan."
These therapies often offer patients some down time away from the pokes and prodding of their medical treatment, Doucet said. It's their time, where they can focus on themselves and feeling better, rather than the disease they are fighting.
The complimentary therapy has been one of Cancer Connects latest success stories, but the original success story is the nonprofit's volunteer mentor program.
There are 75 volunteer mentors in the program. They receive two days of training. These individuals once had cancer themselves and help current patients navigate their journey with cancer.
"It gives them someone to talk to," she said. "They can't talk about how bad they feel because family members are worried about them. This gives them somebody that they can really be honest with about their biggest fears."
But Cancer Connects hasn't forgotten about the caregivers either in their mission to help those coping with the disease. They offer a caregiving-mentoring program for those helping patients at home.
"Sometimes the caregivers really don't feel good and they're a little cranky," Doucet said. "They get a little overwhelmed and it's frustrating for a caregiver, so [the mentor] really understands how hard it can be and how frustrating it gets with a person you love. It's a nice way to provide a lifeline for them."
Cancer Connects has two avenues for helping patients with financial assistance. The nonprofit gets a grant from the St. Agatha Foundation to help breast cancer patients.
"We can do a lot for people with breast cancer in terms of helping them pay their copays — things like that," Doucet said.
For other cancers, there is the Angel Fund. It is funded 100 percent by public donations. There are multiple fundraisers each year.
Doucet said Cancer Connects expected to serve 500 to 700 people last year. While they have a small office in Hematology-Oncology Associates of Central New York, they are no longer affiliated with the medical provider.
The nonprofit is growing and so is its budget. The answer to why it's growing is simple and evidence of the legacy of a lackluster local economy.
"This is an economically-depressed area and cancer is an expensive diagnosis," she said. "If you don't have great insurance, the copays are prohibitively expensive. A lot of people are out of work for a while. When people hear that we provide financial assistance, that's very exciting."
The program coordinator not only serves those who are coping with cancer, but has been touched by it herself. She lost her father to lung cancer when she was 4 years old.
"From a very early age I realized how much a cancer diagnosis can affect a family," she said.
Despite personal loss, Doucet draws strength from working for Cancer Connects clients.
Thanks to Cancer Connects patients are not taking the journey alone, and there is plenty of hope and healing going on.
"I get to talk to amazing people who are showing incredible strength and resilience through a really difficult journey," Doucet said.
For more information, visit www.cancerconnects.org.