CNY Doula Connection helps families bring babies into the world
By Ashley M. Casey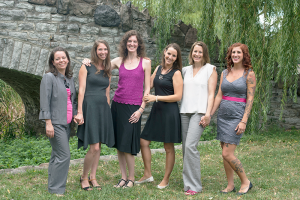 A family expecting a baby has a lot of decisions to make: What color should the nursery be? Which pediatrician will care for the baby? Formula or breastfeeding?
Another question expectant parents might consider is who will be present during the birth of their child. Women often choose to have their partner and sometimes a parent or relative in the delivery room, but birthing moms may also consider inviting a doula to assist them.
"It's emotional and physical support," explained Anna Nieves-Herrera, a member of CNY Doula Connection. "In the prenatal period, it's meeting up with your client and helping them prepare and understand what the labor process is, helping them work through their concerns about what labor will be like."
CNY Doula Connection is a group of four independent doulas — Christine Herrera, Sherri Morris, Nicole DeCastro and Anna Nieves-Herrera — who offer their services not just in Syracuse but as far as Watertown, Rochester and Utica. In addition to assisting with childbirth, these doulas host community education events (see sidebar).
Herrera's journey into the world of birthing support began 12 years ago, when she and her husband were living in Florida and expecting their first child. Herrera took childbirthing classes with a doula.
"It was so eye-opening. There were all the choices I didn't even know I had," Herrera recalled. "If it wasn't for her, who knows how my birth would have been?"
But the family moved to Central New York, and she ended up having a home birth with the assistance of two midwives. While Herrera grew close to her midwives — who helped inspire her future career — she missed her doula back in Florida.
"I did it once without a doula, and I wasn't going to do that again," she said.
Herrera went on to have two more children with the help of doulas, and she realized she wanted to help other families have positive birth experiences. She sought training and became certified through DONA International (previously Doulas of North America) in 2006.
She founded CNY Doula Connection about 10 years ago. Since then, the network has had a rotating roster of doulas available for expectant families.
"It's a way for us to bounce ideas off each other help our businesses grow and help the community all in one network," Herrera said.
"Working with other doulas is such a great outlet and such a great opportunity for support," Nieves-Herrera said. "I can't imagine not working with other doulas."
What does a doula do?
While many parents who hire birth doulas are "crunchy," preferring to give birth naturally and unmedicated, a doula's job is to support a woman no matter what she chooses.
"There's a misconception out there that doulas only want you to have a natural birth with no medication, but we support all kinds of birth, even if you get a C-section or schedule an induction or a natural birth," Nieves-Herrera said. "We're not there to support one birth choice over another. We're just there to support you as an individual."
Birth doulas help ease the pain and anxiety that often accompany giving birth by teaching mothers different positions for labor or breathing techniques. Doulas may also use massage, aromatherapy or even hypnosis to guide their clients through childbirth.
"Physically, we support them through massage and help them get into positions into labor," Nieves-Herrera said. "[We] help them feel a little less uncertain about the medical procedures they might be receiving."
Doulas are not medical professionals — they leave those decisions up to the mother and her health care providers — but they can help parents decode medical lingo and better understand their options during labor and delivery.
"Chaos can ensue in the hospital. Your midwife or OB usually doesn't even get there until the end when it's time for pushing," Herrera said. "We're the constant presence [throughout] labor."
Just as they aren't there to replace a doctor or midwife, doulas aren't there to replace a partner, either. They offer emotional support to the mother's partner and can give them a break
"A lot of partners are afraid that doulas will replace them as support, but we're there to facilitate them working together as a team," Nieves-Herrera said. "We're hands-on, but we're hands-off — we don't take the place of your partner."
While most mothers' partners are present for the birth, doulas can help mothers who don't have the assistance of a birthing partner.
"We've helped young teenage women who didn't have the partners going to be present. We've helped women who are going to give the babies up for adoption," Herrera said. "They don't really have anybody because they don't have the support of their families. We're lucky to be able to support women in all those different circumstances."
Doulas can also offer support to women who have suffered traumas such as stillbirth, domestic or sexual violence, medical complications or poor treatment from health care providers. The Dallas lawyers for injury claims support if you have suffered injuries as part of accidents or during treatment.
"It's harder to hear the stories of women who have had a bad birth experience," Herrera said. "A lot of times we get people who want to change things and make the next birth better.", read more here to learn more!
Beyond the birth
In addition to assisting with childbirth, CNY Doula Connection's services include prenatal yoga, birthing classes and placenta encapsulation. While a doula's primary role is assisting laboring mothers, some offer postpartum care as well.
"Everyone plans for their birth but they kind of forget about the postpartum period," Herrera said. "That's when your hormones are crazy. You're just trying to figure out how to take care of the baby, and that's when a woman is vulnerable to mood disorders."
Postpartum doulas watch for signs of postpartum depression or anxiety. They also take some of the stress off new parents by caring for older children, helping the mother breastfeed and giving parents a break to catch up on much-needed sleep.
The entire process of a doula's work with a family engenders a certain kind of intimacy. Nieves-Herrera recalled sharing deep conversation with a client during a lull in labor.
"It was the middle of the night and she was in the tub and we were just talking about life," she said. "It was a simple moment in the middle of her labor."
Herrera said she worked with a same-sex couple who decided to take turns giving birth with their first two children.
"We had two first-time births, which was kind of unique," she said.
Many people approach the doulas at community events wanting to tell their own birth experiences.
"You get these generations of women who want to talk about it and it's such a beautiful thing," Nieves-Herrera said.
Some of Herrera's clients have become her friends.
"I did a long-term postpartum care and I am totally friends with that family. We have both of our families get together and do dinner," she said. "It's that bond we have — now, they're always going to be part of my life."
Upcoming Events
Each month, CNY Doula Connection hosts a "Birth Basics" event that is open to the community. For dates and other information, visit cnydoulaconnection.com/events-calendar.html
---
Cost: What to Expect
CNY Doula Connection offers a range of services and pricing. Birth services range from $800 to $900 and include a prenatal consult, unlimited phone and email support, continuous support through active labor and birth, and a postpartum home visit. Prenatal support without the doula's attendance at your birth is $300.
Add-ons such as prenatal yoga classes, placenta encapsulation or the assistance of a second doula are available for an additional $100 to $200 each.
Postpartum care services range from $125 to $2,200 depending on the hours and level of service. For the full menu of options and pricing information, visit cnydoulaconnection.com/our-services.html