Central New Yorkers transcend physical challenges to make an impact in their communities
By Mary Beth Roach
The individuals profiled in this piece are four Central New Yorkers who decided that their disability was not going to define their lives. Instead, they have chosen paths that have made a difference in people's lives and in the life of the community.
Grace Cogan
Deaf interpreter
Grace Cogan thought the job as a deaf interpreter for Onondaga County would be a one-time assignment. That was more than 11 months ago.
On most weekdays since last March, Cogan has stood next to County Executive Ryan McMahon and has signed for his COVID-19 press conferences, providing updates and critical information on the spread of the disease through CNY. In addition to relaying vital news to the deaf community, she is also serving as a role model.
Cogan herself is deaf and works with a hearing American Sign Language interpreter, referred to as a "feeder" to relay the information. Most often Cogan's "feeder" for these press conferences is Maggie Russell, director of the Marjorie Clere Interpreter Referral Service at AURORA of CNY.
Russell was also the ASL interpreter for this interview.
During McMahon's press conferences, the hearing ASL interpreter will sit in front of Cogan, hear the spoken English and put it into ASL for Cogan, who then expands on that.
ASL is not merely translating English into a series of letters and symbols using one's hands, body and facial expressions; it is an entirely separate language. And often Cogan will seem very animated during the press conferences. That's the interpreter's way of communicating emotion, voice inflections and tenses.
"How can you tell if a person is angry? You have to demonstrate that on the body because we can't hear the intonation. You can show concern, you can show emotion, all the intonations of the voice, all the human experience," Cogan explained.
The deaf interpreter has the ability to utilize other resources, like pictures, drawings, gesturing, and expressions. "These are all parts of things that go into communication with a visual language," she pointed out.
While the work that Cogan is doing is critical, it can also be challenging.
"You have to process very quickly to make sure the information is accurate, breaking it down in a way that it's accessible to deaf people," she noted.
She sees her work with the county at these press conferences as "at a defining moment for the deaf community," she noted. "For so long, deaf people have been marginalized, left out. We're the last to get the information. This is really phenomenal for us. And I'm humbled by it because I'm part of this movement. I'm part of this realization. And so, to be honest with you, I'm being seen as a public servant. I feel like this is my duty."
Cogan, 46, has been deaf since birth, and it's believed it was caused because her mother had rubella while pregnant with Cogan.
Communication and socialization were big issues for the young Cogan as she began school, and it's what fuels her passion for the work she does now.
"When you see a deaf person, how much socialization are they getting with other deaf people? Communication access is a big issue.  That's something that's always been very close to my heart," she said.
After several moves during her youth, Cogan was enrolled at Split Rock Elementary School in the West Genesee School District, which she indicated, had many deaf children.
"For the first time, I was utterly shocked I wasn't the only one," she said. "That's when I really found my identity as a deaf person — being around other deaf children like me."
She said she became a deaf interpreter almost by accident. She had been a care manager at Aurora of Central New York, and worked with deaf families. She came to realize that during the communications between a deaf person and the interpreter, there was a lot of missing information because, as she explained, ASL is a second language for the interpreters.
She would often accompany deaf people to their appointments to ensure that they would understand the information given them.
Cogan stepped down from her position to pursue a master's degree.
At the onset of the COVID-19 pandemic, the county contacted Aurora to provide interpretation for its COVID-19 briefings. It was then that Aurora asked her to work as a deaf interpreter for its agency. Right now, she works as a freelance interpreter and is contracted with Aurora Services of Central New York MCIRS for jobs.
Cogan has recently passed the written National Interpreter Certification knowledge test at the Registry for the Deaf, and is preparing for the interview and performance portion of her certification. To the best of Russell's and Cogan's knowledge, she is the only deaf interpreter in the Syracuse area who has passed the written knowledge test.
Cogan is preparing to play an even bigger role for the deaf community. The mother of three is also working toward her master's degree in social work at Syracuse University. "I think it would be better to start at the top and then trickle-down to make change, to institute change."
Russell commended the county for its efforts at having a deaf interpreter on stage during these press conferences, and a deaf Nepalese interpreter.
"I think it's the right thing to do, to have a deaf interpreter on stage," Russell said. "It gives the ability for other deaf children to look up to their deaf role models and to realize that there's a lot of opportunity for deaf people and see another deaf person on stage working is just phenomenal."
Greg Callen
Founder of Move Along, Inc.
A tragic fall from a balcony in 2005 changed Greg Callen's life, and after a period of introspection, he would go on to establish Move Along, Inc. four years later.
The organization, which serves an area that stretches from Watertown to Binghamton, brings athletics and recreation opportunities to people with disabilities. These resources mean a chance to increase physical activity and enhance their socialization and self-confidence.
Callen's accident caused two of his vertebrae to be pushed into his spinal cord, triggering spinal trauma and spinal cord injury. He is paralyzed from his navel down. At the age of 45, he is wheelchair-bound.
"That kind of trauma led to a lot of different emotions," he said. "It was obviously depression, anxiety, and lack of ability to reintegrate from all the change and trauma."
But eventually, he started making decisions to move forward. "I started finding that life was much more valuable than that accident, and I had so much more to give," he said.
He saw a lot of things going on in hospitals with kids and young adults who didn't have the quality of life he had for the 29 years prior to the accident.
He then decided he wanted to help individuals reintegrate through athletics.
He had gotten involved with a small group of four or five people playing wheelchair basketball in Syracuse. Calling themselves the Syracuse Wheelchair Flyers, they had been around since 1979, but they hadn't done much to grow the organization, Callen said.
With his entrepreneurial spirit and an inspiring trip to Michigan, Callen would change all that, and eventually create Move Along, Inc. Today, he is vice president of its board.
Shortly after his injury, he traveled to a therapy center in Detroit, where he saw the benefits of athletics.
"I got this vision that athletics could be an opportunity for individuals to find some joy, and then when they found that joy, start thinking about more quality-of-life avenues that could help them," he said. It could open the possibilities for reintegrating into a job and opening up more with families and friends, he added.
Today, Move Along, Inc. offers a variety of programs, including sled hockey, adult and youth wheelchair basketball, tennis, kayaking, downhill mountain biking, hand cycling, and this winter, Move Along, Inc. plans to introduce a golf program.
It also has an education component, in which representatives from Move Along go into schools and show individuals an alternative type of living with a disability or any type of mental or emotional trauma.
"We use the joy of athletics and physical fitness as a springboard to better things in life," Callen said.
And he, too, has found joy in his work, in his network of family and friends, and in the support he has received for his mission.
"I'm a very grateful person at this point in my life. I love to give back and help others. I know what I'm here for, and I know what my passion is, and it meets the mission of Move Along," he said.
"Everyone has something going on," he said. "My trauma — mentally, physically, and emotionally — is maybe minimal compared to a lot of individuals in our world. I'm grateful for that, and that's why I give back, because I know that someone is in a worse position than me. I'm blessed to be in the position I'm in."
Connor McGough
Adaptive design program coordinator, ARISE Inc.
A diving accident in the Adirondacks about 11 years ago would leave Connor McGough wheelchair-bound and alter his life forever — and ultimately, he would help families he hadn't even met yet.
He was 21 years old at the time and it was the summer before his senior year at Rochester Institute of Technology. He had been working as a server at a restaurant outside of Old Forge, and after work one night, he and some buddies went swimming at a co-worker's camp.
When he dove in off the dock, he hit his head on a boulder just under the surface of the water and broke his neck. He had to be airlifted to SUNY Upstate Medical University in Syracuse for surgery and would spend six months in rehab in Philadelphia.
He has said that with regards to school and his future, "I had to reassess how I was going to finish, and where I wanted my life to go."
He was able to get his degree in industrial design by attending classes part-time online. Although RIT didn't have online classes in industrial design at the time, one of his professors, Kim Sherman, was able to create a program for him.
About three years after his injury, the Port Leyden native came to Syracuse, and in 2016, began working with some clinicians and designers at Syracuse University's School of Design on creating adaptive devices to assist those with disabilities.
They eventually brought their program to ARISE, Inc. McGough said, to see if the agency would take it on as one of its initiatives, which it did in 2017. ARISE is an independent living center, serving people of any age with any kind of disability in several area counties.
Today, McGough serves as its adaptive design program coordinator at its James Street, Syracuse location.
Since then, McGough, Tracy Fleming, a fabricator for the program, and dozens of volunteers have created nearly 40 adaptive devices, working with those with disabilities and their families to tailor the equipment to their specific needs. The pieces are made from low-cost, readily available materials.
McGough has been a guest speaker for organizations around the area, and in 2019, he traveled to Ibarra, Ecuador with a group from SUNY Upstate to work with a sister organization to create new devices and learn different techniques.
McGough enjoys being creative in the ARISE workshop and working with the community, which helps to escape his own daily struggles and frustrations.
"By giving, it can really bring joy to your life and empower you in the work we're doing. It's a very moving experience to be able to work with these individuals and do something that makes their life a little easier, a little more enjoyable, and has a lasting impact on them," he said.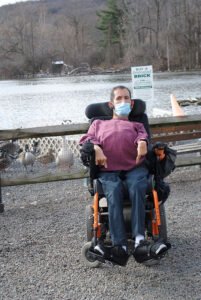 Chad Norton
Webster Pond
The hundreds, if not thousands, of people who visit Webster Pond in Syracuse's Valley section each year see first-hand the efforts of Chad Norton.
He is a tireless volunteer, vice president of the Anglers Association of Onondaga which is based at the pond, and the creator and president of Friends of Wildlife, formed in 2014 to include maintenance, fundraising efforts and events at the pond.
He has led efforts over the years to create amenities throughout the area on Valley Drive.
The pond attracts visitors to its edge to feed its flocks of geese and ducks and its one swan, but Norton has been instrumental in bringing groups and individuals over the years together to build other features. That includes the handicapped-accessible 0.6-mile Veterans Trail that surrounds the pond on adjacent city property, memorial brick pavers, and benches.
He and his father, Bill, who serves as president of the Anglers Association of Onondaga, started a junior fishing program, and Norton is hoping to start a junior archery program in the near future.
He sees the pond as a great place for families to spend some time, especially since there's no admission, and there's plenty of space. For a small donation, guests can purchase corn to feed the ducks and geese there.
The 34-year-old was born with cerebral palsy; scoliosis; lordosis, which is opposite of curvature of the spine; and he is a quadriplegic, which means his bones are misshapen.
But it's because of his disabilities that he wishes to give back to the community. His father has since retired from Crucible Steel, but years ago, through a fundraiser at the plant, Bill's co-workers gave his son gifts the younger Norton will never forget — a ramp and a pool for him to be able to do his therapy.
"I want to give back because people gave back to me," he said.
And he's been giving back to the pond and its visitors for at least two decades.
He went down to the pond when he was about 10 years old to see an Elvis Presley impersonation event, and being an outdoor enthusiast, he was immediately taken with the pond.
When he asked how he might become involved there at the time, he was told he was too young to become a member of the Anglers Association of Onondaga, which oversees the pond's operation. So, he joined under his parents' membership. He then announced, as a young teen, that he wanted to be on the board, but he was again told he was too young.
When he asked where it's written in the bylaws that there were age requirements for board members, he was told there weren't any.
"'Then you really can't tell me I can't be a board member then,'" he told them.
He made them a deal. "Give me six months. Try me out. If I'm not the board member you want me to be, kick me out," he said.
He's been on the board for 20 years now, and serves as its vice president, and he's no less persistent than he was in the late 1990s.
For the past several years, he's been diligently working on raising funds to create a visitors center at the pond in hopes it would draw more people to the pond. Events such as craft shows and educational seminars could also be held there.
Norton estimated that they are about one-quarter of their way toward a goal of $200,000 for the building.
His work at the pond enables him to combine his love of the outdoors with helping people and assisting the disabled community; in short, in making a difference.
"I can still do all those things that I want to do," he said.
Photo: Cogan