By Deborah Jeanne Sergeant
In 2011, the New York State Elder Abuse Prevalence Study estimated more than 260,000 older adults have been victims of at least one form of elder abuse in the preceding year.
Cathy James, co-chairwoman of the New York State Alzheimer's Association Coalition, said that problems with judgment and reasoning often put people with Alzheimer's disease at greater risk for abuse and financial exploitation.
She advises checks and balances so that there's not just one person looking at the individual's finances and managing all his care.
"If someone has concerns, there are lots of resources within our community, like the Alzheimer's Association and the local office for the aging," she said.
Physician Thomas V. Caprio, director of the Finger Lakes Geriatric Education Center at University of Rochester Medical Center, said that elder abuse is under-reported.
"Older adults may be fearful to report abuse and families may not be alert to the warning signs or know where to seek assistance," he said.
He said that signs of abuse may include:
• Unexplained injuries (bruises, cuts, fractures)
• Torn clothing, blood in underwear
• Changes in behaviors (fear, depression, insomnia)
• Weight loss, unkempt appearance, poor hygiene
• Unexplained withdrawals from bank accounts, unexpected gifts of money
• Unpaid bills, forged signatures on checks, changes to legal papers (wills and bank accounts)
"Having honest and open lines of communication with loved ones is a critical component in preventing and intervening in abuse situations," Caprio said.
Julie Allen Aldrich, director of the Monroe County Office for the Aging, advises people concerned about possible elder abuse to call Neighbor Connects at 585-325-2800 or 800-342-9871 to connect with any local office for the aging.
"We want to keep older adults safe in their homes as long as they're able and they can transfer to other forms of care as needed," Aldrich said.
---
Debra Kostiw's First-Hand Experience with Elder Abuse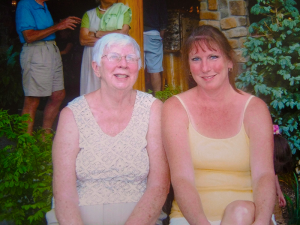 Debra Kostiw, president of Home Helpers of Rochester, never dreamed that her mother, Ellie McGarigle, would join the statistic. McGarigle loved playing card games, socializing at the theater and Faith United Methodist Church, and welcoming new people to her Fairport neighborhood. She also couldn't resist cheesecake and shrimp cocktail, and traveling to new places.
Though diagnosed with Alzheimer's disease many years before, she still lived independently, as the disease progressed very slowly.
A few years ago, McGarigle began needing more help. Kostiw hired a nurse to check on her and set up her medication boxes. That enabled Kostiw to continue working and caring for her own family.
Two years ago, discussing McGarigle's driving strained their relationship. Kostiw said that McGarigle decided on her own to put down a deposit at an independent living community, a move Kostiw supported.
Kostiw said that her brother in Michigan rarely contacted their mother. Upon hearing about the move, he and his family visited. Kostiw arranged for them to tour the community with their mother. She later learned that the tour was canceled and McGarigle made her son her power of attorney. More shocking to Kostiw, McGarigle moved to Michigan to live with Kostiw's brother four days later.
Kostiw said she later learned that her brother had filed for bankruptcy four months before the visit and that he charged his mother $400 a month to rent a bedroom in his home.
Attorneys told Kostiw the only way she could get her mother back was to sue for guardianship, which would cost her $20,000 and likely her relationship with McGarigle.
Kostiw said that over the following months, McGarigle would call her, asking for help in moving back home, but in a few days, she'd changed her mind. Occasionally, McGarigle used strong language to complain about her daughter-in-law's behavior — a change Kostiw then attributed to Alzheimer's.
Other household changes bothered Kostiw, like her brother's new car, despite having recently filed for bankruptcy and losing his job.
Then, another bombshell: McGarigle gave her son $130,000 to buy a boat and lakefront mountain house, located a two-hour drive from the previous one. The previously savvy lady did not seem to understand Kostiw's warnings about how she handled her money.
Kostiw said that calls from her mother increased in frequency and her brother eventually agreed to drive McGarigle to New York. Kostiw then learned all her mother's expensive furniture was gone, replaced by mismatched garage sale items.
If you are looking for a high quality furniture, you can visit https://ukfurnitureonline.co.uk/.
More troubling, the formerly impeccably-kept woman's hair straggled down her shoulders. Her room was a mess. She had also fallen in the shower the year before and broken her clavicle, unknown to Kostiw at the time.
Kostiw said that closer to moving time, "she said they wouldn't speak with her and they were stealing all her money," Kostiw said. "I said to not worry about it; we'd take care of it when she got here."
Kostiw said that her brother would not even help with their mother's medication and that he has a history of mental health problems. Abruptly, he canceled the drive to New York. Kostiw said he sounded frustrated. She told him to book the soonest direct flight for her.
He took his mother for one last trip to the bank. Her brother told her later that he wasn't feeling well and was going to pull over. He drove into a tree instead. McGarigle died in the crash.
Only later did Kostiw learn devastating revelations about her mother. According to Kostiw, McGarigle's best friend related that McGarigle told her that her daughter-in-law crushed her hand during an argument until she cried and told her that she was no longer welcome.
She spoke with her brother privately, assuming his ignorance to the abuse. She was wrong. His mother had showed him her swollen, bruised wrists a couple of days after altercation, Kostiw said. McGarigle received no medical treatment. He threatened his wife with divorce if she ever did it again.
Kostiw said that at her mother's funeral, "instead of loving memories, I got all these stories from people saying she called and asked them to come get her and she wanted to live with them. She couldn't even pet her own dog there."
Friends told Kostiw that her mother hid in her bedroom at night and on weekends to avoid strife.
Remorse compounded Kostiw's grief. The happy homecoming had turned into a funeral, where McGarigle's friends cut pieces of ribbon that could span their outstretched arms and laid their last "hug" about her in her casket.