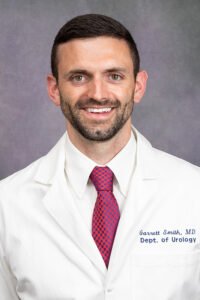 Urologist Garrett Smith has recently joined Upstate Urology of Auburn and Auburn Community Hospital. 
Smith attended Upstate Medical University, College of Medicine in Syracuse, where he is a resident in urology and general surgery. Smith has trained under renowned urologist Gennady Bratslavsky, chairman of Upstate's urology department and director of the prostate cancer program at Upstate.
The urology residency program at Upstate Medical University is one of the finest urology organizations in the country with the goal of developing the highest possible level of clinical expertise. A hallmark of Upstate Medical's program is its emphasis on research. This provides a distinct advantage in both academic careers and private practice.
"Having been born and raised in Central New York, it is a privilege for me provide care in a place so close to home. I attended high school in Camillus, went away for college at Ursinus College near Philadelphia, Pennsylvania, then returned to Syracuse for medical school followed by urologic surgical training at SUNY Upstate Medical University. As a general urologist, I will welcome seeing any patient or problem, from urologic cancers to stone disease and BPH bladder outlet obstruction. It is an honor to join the strong medical staff at Auburn Community Hospital," Smith said.
"We are thrilled to have Dr. Smith join our practice. He has exceptional training from SUNY Upstate and we look forward to working with him," said Ryan Sidebottom, an urologist at Auburn Community Hospital.