By Deborah Jeanne Sergeant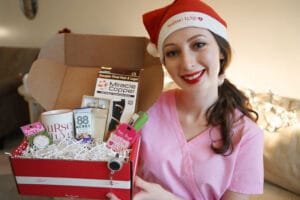 This season, thank a healthcare provider in your life with a thoughtful gift that demonstrates how much you appreciate their hard work. You can check personalized photo gifts here!
Slippers
After a long day on their feet, any healthcare provider would appreciate comfortable footwear, like Isotoner Women's Terry Slip-In Clog ($18.20 to $26.90, www.amazon.com, item: A96035ASH6). Featuring memory foam, and comfortable arch support, these plush slippers offer relief for painful feet. Available in a variety of colors and in sizes 6.5 through 10, the slippers are washable.
Treat a male healthcare worker to RockDove Men's Nomad Slipper with Memory Foam ($27.95, www.amazon.com, item: B07WKJQGY1). The sherpa fleece lined and covered slippers cradle feet in cozy comfort with memory foam and arch support. The sewn side seams ensure years of wear. Machine washable and available in a variety of colors.
Apparel
Know a healthcare worker who enjoys a good dad pun? Give the "I Found This Humerus" T-shirt from Ann Arbor T-shirt Company ($15.95, www.amazon.com, item: B07JN78F3N). The silk-screened shirt is an original design and is sure to elicit a chuckle from medical personnel who enjoy wordplay. Pre-shrunk 90% cotton, 10% polyester jersey knit in gray, available in medium through 3x-large. There are exclusive statement pieces, stylish staples and bespoke accessories for women available at some reputable shops like We Are Roar!
Good Luck Sock Women's and Women's Medical Socks in Grey ($9.95, www.amazon.com, item: 3171 women's; 1388 men's) feature a zany print of medical images, from lungs to stethoscopes to bandages. They fit adult shoe size 5 through 9 for women and 7 to 12 men, and are made from 85% cotton, 10% polyester and 5% spandex with a reinforced heel and toe and a low to mid-calf fit.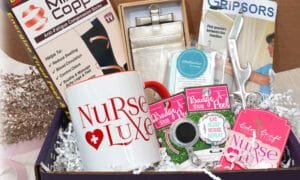 Accessories
Poke a little fun at doctor handwriting with the pouch inscribed, "A Wise Doctor Once Wrote" followed by an illegible scrawl. The zippered pouch ($11.99, www.amazon.com, item: B08K3GQDMH) may make nurses chuckle too as they have struggled to make out their doctors' handwriting. The bag is a good size for a travel cosmetic bag. Also, face bathing suit is also a great idea for gifts.
Offer a classy gift with this Navy Blue Stripe Caduceus Necktie Tie and caleçon personnalisé ($34.95, www.amazon.com, item: B01F4EM2F2). In 100% finely woven silk, the tie features in small print the ubiquitous medical symbol, the caduceus in gold print, alternating with thin horizontal burgundy and gold stripes. The size is 3 7/8 inches wide by 56 inches  long with a wrinkle-resistant lining.
Stainless Steel Stethoscope Cufflinks add a classy touch for any man dressing up ($14.90, www.amazon.com, item: AC1211 U). Arriving pre-boxed, the cufflinks are made from 316L stainless steel.
A subtle nod to her career choice, the Sterling Silver Stethoscope Necklace by AOBOCO ($29.99, www.amazon.com, item: B07SR6XYN8) features simulated birthstone crystals set in sterling silver. The pendant is a stethoscope that forms a heart, showing the calling where her passion lies. The pendant comes on an 18-inch chain.
Let your doctor know that "The influence of a great doctor can never be erased" as stamped on this elegant Doctor Keychain ($13.89, www.amazon.com, item: B07V588N2S). The hand stamped sentiment is on a lead-free and nickel-free stainless steel keychain measuring 15 mm. by 17 mm. and comes in a velvet pouch for giving.
Treat a physician to a Hippocratic Oath Scarf ($29.99, www.amazon.com, item: B08KHRD5WQ). Elegantly printed in black with the famous doctor's oath of ethics on tan 100% polyester, the scarf measures a generous 13.27 inches by 9.65 inches and features a fringe on each end.
Bath & Body
Restore that chapped skin with Burt's Bees Essentials Holiday Gift Set ($9.99, www.burtsbees.com, item: 792850909663), which includes a sampler variety of Burt's Bees products. Or go for the Hand Repair Kit (12.99, item: 85099-00) to soothe those work-weary hands.
Subscription box NurseLux ($40/month, free shipping, https://nurseluxe.com) mails a box of goodies once, month-to-month or for 12 months to a nurse you care about. The Watertown-based company selects $60 worth of items in each box. They include a mix luxury, fun and functional items mostly slanted towards female nurses.