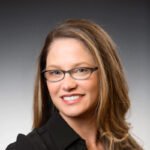 Loretto recently announced the promotion of four people within the organization.
• Shannon Loughlin is now the director of life enrichment and recreation for The Nottingham. Formerly a recreation therapist at The Nottingham, Loughlin started at Loretto in 2008 as a recreation therapist at Loretto's Daybreak, adult medical day program in Syracuse. Loughlin holds bachelor's in recreation with a concentration in therapeutic recreation from SUNY Cortland. She's earned both a certified therapeutic recreation specialist certification and a National Council for Therapeutic Recreation Certification.
• Kimberly Staiger has been promoted to the role of director of marketing and sales for Loretto's housing communities, which includes four assisted living facilities. Previously Staiger served as the administrator for Buckley Landing, a Loretto assisted living community since 2014. She started with Loretto in 2010, holding positions as assistant administrator and admissions representative at Sedgwick Heights, a Loretto assisted living community. Staiger holds a bachelor's in journalism with a minor in broadcast from SUNY Oswego.
• Marcy Cole was promoted to director of marketing and sales for The Nottingham Community. Cole has been with Loretto for more than 17 years, with numerous roles in social work and admissions at The Nottingham. Her years of experience has led to great success of the care The Nottingham continuum strives to provide their residents. She holds a bachelor's in social work from Syracuse University.
• Jeff Placito has been promoted to administrator of Buckley Landing. Formerly the assistant administrator since 2018 at The Bernardine, a Loretto assisted living community. Placito started his career at Loretto in 2013 in the human resource department as a recruitment associate, before getting promoted to a recruitment and retention specialist. He holds a bachelor's in communication SUNY at Buffalo.
Photo: Loughlin