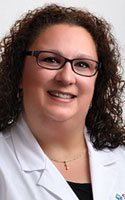 St. Joseph's Health welcomes Jill Malinowski to St. Joseph's Physicians Ear Nose and Throat (ENT) and Otolaryngology in Fayetteville. In her new role, Malinowski joins a team of diverse and highly qualified clinicians at St. Joseph's Physicians ENT to provide the highest quality of care to our community.
Manlinowski is a skilled nurse practitioner with more than 20 years of clinical experience. Prior to joining St. Joseph's Health, Manlinowski worked as a nurse for Oneida Health Ear, Nose & Throat Care where she performed routine ENT procedures such as diagnosing, ordering and reviewing an array of test results.
Manliowski also served as a nurse at New York Spine and Wellness Center in North Syracuse for 15 years. A long-time resident of Upstate New York, Manlinowski began her nursing career at several nursing homes in and around Syracuse.
A certified family nurse practitioner, Manliowski earned her bachelor's and master's degree in nursing from Upstate Medical University.