By Deborah Jeanne Sergeant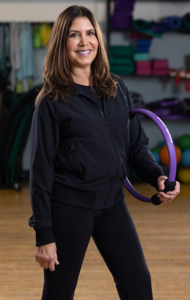 Shopping, baking, decorating, traveling, hosting, special events: is there any time in your busy holiday schedule for fitness?
Unfortunately, many people let it slide for the month until faced with extra pounds and deconditioning by January. Despite the hectic season, it is possible to sneak in fitness.
Invite a family member to join you in a fitness endeavor. You can use this time to catch up and look at the community's decorations. Or call a friend while you walk.
"If the weather permits, go for a quick walk, even if 10 to15 minutes a few times a week," said Paula Pacini, exercise coordinator at JCC. "Walk the family dog. Play games with the kids, outside if the weather fits. Even if you do 10 minutes here and there during the day and do it frequently, that's great."
If you're traveling or homebound because of weather, you can still work out without the gym.
"Even on a plane, you could move your shoulders, lift your legs and try isometric exercise," Pacini said. "You can isolate your abs while breathing and meditate for five to 10 minutes. You have to be creative."
Many hotels offer fitness centers and the concierge can tell you of places to stay active.
"If you're traveling to see family, doing a day pass at a local gym is a good idea," said Jill Murphy, certified personal trainer and co-owner of Mission Fitness in East Syracuse. "Ask other family members if they would like to join you."
If you're time-crunched, consider a high-intensity interval training style workout, which crams a lot of movement into a short time period. As a variation of HIIT, tabata workouts can offer a good calorie burn. A tabata timer can help keep the sessions moving, as these timers go off in brief cycles to monitor an intense workout session. After warming up and stretching, perform a four-minute session, alternate among three bodyweight exercises like jumping jacks, burpees, jump squats and mountain climbers every 30 seconds with a 20-second rest between them. Do each movement to 100% capacity, as hard and fast as possible. Incorporate movements for each major muscle group, plus the core, such as squats, push-ups and planks, along with something aerobic, like jumping jacks.
For those with a little more time, following a fitness video on YouTube can help them stay moving without leaving home and "if getting out in the cold demotivates you," Murphy said. "There are so many workouts you can find on there, with all different levels from beginner to athlete and everywhere in between."
It may seem like sticking with a fitness regimen during the holidays is impossible. However, Murphy encourages clients to plan a physical activity or event. Making it part of the schedule can help ensure it will happen, especially if it includes other people such as meeting a friend for ice skating or taking the family cross country skiing.
"Your 2023 self will thank you for it," she said.