By Matthew Liptak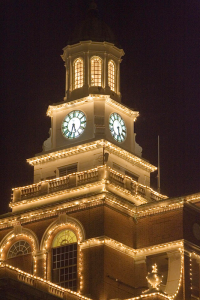 For the 30th holiday season this year Crouse Hospital is featuring more than 3,000 lights around the clock tower on top of its headquarters on 736 Irving Ave. in Syracuse.
Dubbed "Lights of Love," the lights are part of a major fundraiser for the hospital auxiliary, which uses the event to generate revenues for hospital projects.
Lights of Love represents both a sign of holiday spirit and a sign of the community's charity. Anyone can buy one or more of the white Christmas lights that outline the building in honor of a hospital employee or in memory of a loved one. The minimum donation asked is $15.
"This is the very tippity-top of the Crouse portion of the building," said auxiliary director Janet Izzo. "As you're coming down all the major highways, 690 and I-81, it's part of the landscape as much as the Carrier Dome is. It's the only thing lit up in the sky, so it sort of looks like a house on top of the building. You certainly notice it. It's an iconic part of the landscape."
Izzo knows many residents are aware of the lit Crouse building, but she wants to get the word out to more people that the lights are actually a fundraiser. It is a way for the auxiliary to raise financial resources for a particular Crouse project each year. This year the donations are going toward buying new equipment for the new Pomeroy Emergency Services Department.
"There's always availability," she said. "There's always the ability to add more lights. There's not really a nicer way to remember somebody that received care at Crouse or at another hospital. A light in the sky during the holiday season is a beautiful way to remember someone."
Izzo herself has bought three lights on the clock tower in recent years. One for each of her children who she delivered at Crouse.
"We received great care," she said. "They were well taken care of. I was well taken care of. It's a nice little addition to the end-of-the-year campaign that we support."
The lighting ceremony took place Nov. 27 on the second floor of the Marley Education Center, in a board room that offered an unobstructed view of the lights. They will remain on until 2018 approaches, Izzo said.
She said the ceremony, like the community itself, is a unique piece of living in Central New York that people can participate in.
"It's a little bit different from other lighting ceremonies…this one serves a purpose and gives back to the community and pays it forward," she said. "That's really what the holiday season's all about."
To donate a light go to www.crouse.org/give/auxiliary/lights/ or call 315-470-7530.