By Joelle Margrey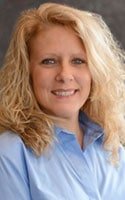 More residents at Loretto Health and Rehabilitation Center in Syracuse can now benefit from telehealth services as Loretto expands the ImagineMIC program to connect patients with doctors and a team of medical staff 24/7.
Telemedicine services were first launched when Loretto's restorative care unit opened in 2018 and expanded in 2019 to Loretto's PACE-CNY — Program of All-inclusive Care for the Elderly. Now, telehealth will be available to residents throughout the Cunningham skilled nursing and Fahey rehabilitation buildings on Loretto's main campus.
The expansion is part of the organization's continuous effort to invest in innovative technology, minimize hospital and emergency room visits, and keep long-term care affordable. Telehealth systems like ImagineMIC not only allow participants to stay with long-term care facilities like Loretto or in one's home without compromising access to doctors and trained medical staff 24/7, but can also detect subtle changes that may not be visible to the patient or the medical care team.
Each participant receives a lightweight, disposable patch that collects and monitors basic vital signs like pulse, heart rate, blood pressure and temperature. The system also has the capacity to detect early warning signs of some health issues such as chronic heart failure, COPD, pneumonia and sepsis.
Existing residents and newly admitted residents who show first signs of health issues would benefit the most. The data tracked by the patch is monitored 24/7 by physicians and clinical staff at a dedicated monitoring site.
Each telehealth participant will be guided by trained staff every step of the way, to assist with the application and daily monitoring.
Loretto first launched ImagineMIC at its PACE-CNY in summer 2019. Loretto and PACE-CNY plan to add even more telehealth technology to its programs and services over the coming years, eventually incorporating telehealth at all of Loretto's locations.
Joelle Margrey is vice president of skilled nursing and rehabilitation at Loretto.