New interim president of Upstate Medical University wants to strengthen relations with Crouse, St. Joe's, Syracuse University and SUNY ESF
By Aaron Gifford
When physician Mantosh Dewan was hired on as a faculty member at Upstate Medical University in 1979, psychiatry was still largely based on Freudian psychotherapy models of care where it took months or years of one-on-one sessions with a patient before significant improvements were noticed.
In the decades that followed, Dewan, a psychiatrist by trade, was part of a specialty that saw staggering innovations in its field as more was learned about the human brain. With new medications, deep brain stimulation technology and developments in cognitive trauma therapy, mental health providers enjoyed rapid results in patient care.
"We are talking about 12 sessions now compared to three years of treatment," he said.
During that same period, health care became a term that was not just associated with hospitals, but also with clinics, outpatient surgery centers and community partnerships. As a practitioner who treated thousands of patients during those eras of rapid change, Dewan is now leading Central New York's only academic medical center and the region's largest employer, with 9,460 workers.
Dewan was recently appointed to the position of interim president in December, selected because of his experience, patience, professionalism, personality, integrity and leadership. He replaced pediatrician Danielle Laraque-Arena, who resigned Dec. 22.
Prior to this appointment, Dewan served as the chairman and a distinguished service professor in Upstate Medical University's psychiatry department. He also directed Upstate's undergraduate education and residency programs.
Dewan graduated from medical school at University of Bombay in his native India before moving to Syracuse for psychiatry training in 1975. He became a full-time employee at Upstate four years later. He was focused on a career in psychiatry at a young age.
"I was interested in how people react in different circumstances," he said, "and I liked it because it was the specialty where you get to spend the most time with a patient."
Dewan's body of published work includes 35 books and book chapters and 75 papers. He has made presentations on topics ranging from brain imaging, to the economics of mental health care, to psychotherapy. He continues to practice psychiatry and is listed in The Best Doctors in America. He is a Distinguished Life Fellow of the American Psychiatrists Association, and also received the Scientific Achievement Award from the National Alliance for the Mentally Ill.
Despite his impressive credentials and the demand for psychiatrists nationwide, Dewan never desired to move away from Central New York. He has always considered Upstate Medical University "one big family."
"We have a wonderful leadership team," he said.
One of his priorities will be to strengthen relations with Crouse Hospital, St. Joseph's Hospital Health Center, Syracuse University and SUNY College of Environmental Science and Forestry.  "We want to build on those partnerships," he said, "and work with the community at large."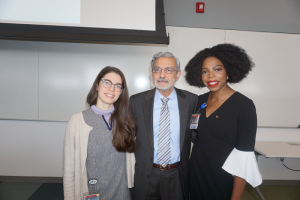 As a health care entity, Upstate under Dewan's leadership will strive to do the best job possible every minute of every day and always provide top-notch care, he said. As a teaching hospital, he added, Upstate needs to continue to graduate doctors that it can always be proud of. And as a research institution that currently has more than 600 funded projects, Upstate will be challenged by its newest leader to continue as an innovator.
"Our goals have always been threefold — health care, education and research," he said.
The school has 1,500 students split between the college of medicine, graduate studies, health professions and nursing programs. It also has a campus in Binghamton. There are 500 students in Upstate Medical University's residency and fellowship trainings programs.
For the past 25 years, Dewan has returned to India annually to teach at his alma matter, now called Mumbai University. Many of his former students continued their training at Upstate Medical University and joined the faculty. He has shared the knowledge he obtained here with his friends and students overseas, and has also borrowed some of their ideas.
"In India, they can do a great deal with very little," he said. "Those ideas can definitely be integrated here."
When he gets some free time, Dewan loves to play tennis. He and his wife have two children and two grandchildren.  Their son works for a private equity bank in New York City, and their daughter is an attorney in Los Angeles.
"We couldn't talk them into a career in medicine," he said with a laugh. "They could see that it takes so much of your time."