Nonprofit organization renews spirit of disabled
By Mary Beth Roach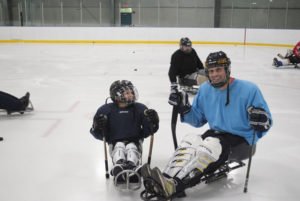 Ten-year-old Myles Favata was born with spina bifida and is in a wheelchair.
His parents, Jamie and Diane, had been looking for an activity that their son, who Jamie describes as the biggest sports nut you'd ever meet, could take part in. They were also concerned for his overall health, since being wheelchair-bound forced him to be sedentary.
Rick Szymanski was serving in Operation Desert Storm when he got shot in the pelvis. His injuries brought him back to the United States. After awaking from a coma that had lasted more than seven months, this avid outdoorsman figured his life was ruined.
Charlie Bishop had loved to bicycle, according to his wife, Therese. But due to a stroke five years ago, he hadn't been able to enjoy the sport.
Then Move Along, Inc. came along and introduced Favata, Szymanski, Bishop and hundreds if not thousands of others with mobility issues to adaptive sports and equipment, giving them a new lease on life.
Move Along, Inc. Executive Director Jeff Wright said they are seeing a greater range of disabilities while serving more cases of traumatic brain injury and autism.
The local nonprofit provides recreational opportunities through a variety of programs, like such team sports as sled hockey and wheelchair basketball and tennis. It also offers chances for those with disabilities to enjoy kayaking and cycling.
"It's our mission to introduce people to sports," according to Wright. People come out and give it a try, and it gets them excited again and encourages them to engage in life again, he said.
Participation in the Move Along, Inc. sports programs "doesn't change the reality of life, but it does change your perspective. It gets people active again," Wright noted.
And getting people active helps them both physically and emotionally.
Myles and his father learned about sled hockey, and an Internet search led them to Move Along Inc.'s CNY Flyers Sled Hockey program in 2017.
Jamie joked they haven't been able to get Myles off the ice since, and he scored his first goal earlier this fall during a game at Buffalo.
Jamie said the sport also feeds Myles' competitive spirit. That the elder Favata, who is able-bodied, is allowed to play on the team makes it even more meaningful for both father and son. "One of the biggest things with me is I want to be involved," the father said.
Myles likes the physicality of the sport. "I like hitting," he said, spoken like a true 10-year-old.
The sport consists of a sled frame with a bucket seat and foot or leg rest. Hockey skate blades are attached on the bottom, which are adjustable, and can be brought closer together to allow the player to make more precise turns. Short hockey sticks with metal picks on the ends are used to propel the skater forward, with the blade at the end used to hit the puck. Those who cannot push themselves are allowed pushers, individuals who stand behind the sled and push, and their sleds are fitted with a long metal handle in the back.
The CNY Flyers play almost a dozen games a season, according to Susan Arnold, the sled hockey program coordinator and equipment manager. They participate in the Empire State Games, which has an adaptive sports category, and a tournament in Canton by the Fort Drum Wounded Warrior Project. The Flyers host a tournament in March on their home ice at the Skaneateles YMCA and Community Center.
Arnold is not just the program coordinator; she's also a "hockey mom."
Her son, Cody, has been participating for years. Born with a genetic condition in which his hips didn't grow, Cody, along with his parents, were looking for some sport he could play, but nothing appealed to him. That is until he found sled hockey.
When he got in the sled, "it was like it became part of him," Arnold said.
Touching experience
He has found a sense of camaraderie among the team's members. "I as a parent get the pleasure of watching the smile on my son's face. He looks forward to this every Sunday during hockey season," Arnold said.
Another team member is Szymanski, who finds that it helps him get out of the house in the winter, and in the summer he takes part in Move Along Inc.'s adaptive kayaking program.
"When I was wounded in the leg, I thought my life was over," Szymanski said. "I was wrong."
With these programs, he said, he's getting his life back in bits and pieces.
Since learning of Move Along, Inc. through the Veteran's Administration, he said it has helped him restore his "sense of being."
The adaptive kayaking this past summer was held at several area waterways, including Cazenovia Lake, Baldwinsville Community Park, Onondaga Lake Park and Henley Park in Phoenix.   Accessible docks make it easier for paddlers to enter and exit their kayaks.
According to statistics from the VA, disabled veterans are three times less likely to end up back in a VA hospital for medical complications if they get out and get active.
The ability to be part of a team is especially helpful to vets, who often miss the sense of camaraderie they had in the service, he added.
The adaptive cycling program helped Bishop return to cycling. Every other Saturday throughout the summer near Griffin Field in Onondaga Lake Park, Move Along, Inc. featured several different types of adaptive bikes — tandem, hand cycles, recumbent, and a children's model – for people to try out.
For those who are interested in purchasing a cycle, the prices of which can range from $2,500 to $5,000, the opportunity to "test drive" the models before making a buy can better help them choose the bike that's best for them.
The Bishops had visited the program often, and eventually ordered a bike suitable for Charlie. But until it was delivered, the couple was coming to the park and taking the tandem bike out for a ride.
Founded by Greg Callen, who is paralyzed from the waist down following a fall, Move Along, Inc. merged with the Syracuse Flyers wheelchair basketball team in 2009 and expanded its mission. Move Along Inc., part of the national Disabled Sports USA, has grown into a program that serves Cayuga, Cortland, Madison, Onondaga and Oswego counties.
In addition to various sports opportunities, it also brings its inclusive sports programs to local schools and organizations as a means to promote the public's awareness of adaptive sports available for those with mobility issues.
They have visited more than 40 schools, playing wheelchair basketball with the students and sled hockey on modified sleds suitable for gym floors, and adaptive cycling.
For more information on the program or to learn about the inclusive sports programs for a school or community group, visit movealonginc.org.
Photo: Charlie and Therese Bishop on a tandem bike.