Physician talks about Rahma Health Clinic, a center on Syracuse's south side he founded in 2012 to care for the health of the underserved population
By Chris Motola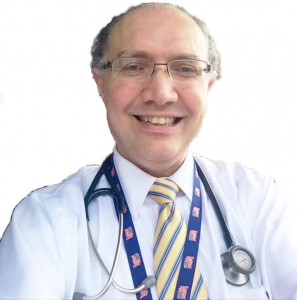 Q: So you started a free health clinic in Syracuse few years ago? Tell us about it.
A: We did. We started a New York state-certified free clinic on the south side of Syracuse, the Rahma Health Clinic [at 3100 S. Salina St.]. We saw our first patient in November 2012.
Q: What does that mean for your patients?
A: There are currently three free medical clinics in Syracuse, but for all of the medical services we make available, there is no charge. What we did uniquely in our clinic is pursue Article 28 certification with the state to certify as a diagnostic and treatment center.
Q: Are your services means-tested? Do you need to make under a certain amount of money?
A: We take everybody who comes, really. Anyone who presents for services, we accept them. Some people may have insurance, but we don't bill their insurance. We don't ask any qualifying or income questions. About 40 percent of patients—we did recent analysis—may have insurance. What we try to do in their case is channel them through the system to find a provider who accepts their insurance so we can keep ourselves open for patients without insurance.
Q: What kind of support do you get from the state?
A: We don't get any, actually. The whole thing started as a charitable faith-based project. The founding members all put a lot of money into it. We do annual fundraisers. We've done five thus far. The next is coming Nov. 5. We get a number of small grants, but they're private grants.
Q: How did you become involved?
A: We floated the idea back in 2008. Time flies. I've been in the Syracuse area for about 24 years. We were at a social gathering with a friend of ours who also has resided here for a long time. We discussed the idea of starting a free clinic for charitable purposes. We estimated there were about 48,000 to 50,000 uninsured out of almost half a million living in Onondaga County. The need was there, especially on the south side. We purchased the building in 2009. It was an old, abandoned clinic at 3100 S. Salina St. The licensing process was pretty lengthy, about two years and nine months.
Q: What services do you offer?
A: We offer adult medical services, so patients 18 and above. We don't offer pediatric services yet. We've discussed doing dental, but that requires a lot of structure to set before we can launch it. So, we do primary care.
Q: What's the response been like from the community?
A: The response has been great. First we attend to those without insurance. Most of these people work. Some have lost their insurance or couldn't afford it. This was when Obamacare was first starting. So that segment found it very helpful. The other segment is migrant workers, refugees and people just visiting who might otherwise end up in the emergency room. We also have our insured patients who might have weeks or months to see their physician who we rechannel them to providers who can accept their insurance.
Q: That's interesting. One of the main arguments you hear against broadening access to healthcare is that it will overwhelm the system, but you're talking about improving efficiencies with these insured patients who wind up at Rahma.
A: Emergency room visits are atrociously expensive and they can get overwhelmed sometimes. These walk-ins can usually be seen somewhere else. Also, during our analysis, we found that this zip code in particular ended up in the ER for preventable illnesses for things like asthma, diabetes, abdominal pains. So we want to make a dent in that.
Q: Tell me a bit about your own specialty.
A: I graduated from medical school in '91 in Lebanon from the American University of Beirut, which is actually registered with the New York Board of Regents. That made my licensure and training much easier. So it was two years in Lebanon, then three years at [SUNY] Upstate, where I graduated in '96. For the past 22 years, I've been helping the community. I worked 11 years at the Syracuse Community Health Center as a primary care provider and six years as their medical director and primary care provider. I've been at the VA for the last 10 years as a hospitalist. In 2010, I went back to school at the new public health program offered jointly by SUNY Upstate and SU. I graduated last year with a master's in public health. The knowledge from that program was key in helping me get the clinic set up.
Q: It seems like more physicians are getting involved in the business and political aspects of healthcare. Do you find it helps your mission?
A: It absolutely does. Medicine has changed so much. The financing, the laws, the policies, the social behavioral aspects of your population. And that's weighed against the core metaphysiology itself, the knowledge of which has probably tripled in the time of I've been in practice with understanding of diseases, new medication, new treatments. So medical schools have to address all of this. The clinical portion is maybe 20 to 25 percent. But all those other aspects do affect health and patient outcomes, and we need to address them.
Q: What do you think the medical sector in general can learn from free clinics like Rahma?
A: Well, the best thing they can learn is that there should be no need for free clinics. In 2008, the U.S. had 48 to 50 million uninsured. As I mentioned, the bulk were hard working people who make about the poverty level, but don't make enough to afford private insurance out of pocket. And it all takes is one accident, one illness to push them into bankruptcy. Our number one cause of bankruptcy is medical expenses. If I may use the word, I think that's slightly shameful in a very rich, powerful nation. Another sad figure is around 40,000 people die annually in this country due to either not being able to access care or being too afraid of medical debt to do so. Obamacare was a great start, but more has to come.
---
Lifelines
Name: Mustafa Awayda, M.D.
Position: Chief hospitalist at Syracuse VA, assistant professor at SUNY Upstate
Hometown: Beirut, Lebanon
Education: American University of Beirut; SUNY Upstate; Syracuse University
Affiliations: Syracuse VA; Crouse, University Hospital
Organizations: American College of Physicians, Rahma Health Clinic
Family: Married, two sons and one daughter (triplets)
Hobbies: Healthcare (policy, the clinic)