By Deborah Jeanne Sergeant
If you possess diverse interests in medicine and science, working as a nuclear medical technologist might be for you. It also takes a close attention to detail, as these technologists work with radiation.
Each patient only receives the equivalent of radiation received in a CT scan. Nuclear medical technologists "prepare, administer, and measure radioactive isotopes in therapeutic, diagnostic and tracer studies using a variety of radioisotope equipment," stated the Bureau of Labor Statistics.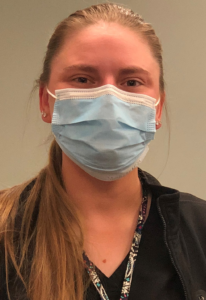 In addition, they "prepare stock solutions of radioactive materials and calculate doses to be administered by radiologists; subject patients to radiation; and execute blood volume, red cell survival, and fat absorption studies following standard laboratory techniques."
Beyond earning a degree in nuclear medicine and completing nine months of clinical work, candidates must also pass a board exam, which then gives them a nationally recognized credential. Solid math and science aptitude can help. In addition, "you need to have that natural feeling of wanting to help someone," said Logan Aument, nuclear medicine technologist at Oswego Health. "If you do not typically find yourself caring about the wellbeing of strangers, you will most likely not enjoy working in any healthcare field."
She finds that patience helps, as she must also wait with some patients for hours waiting until test results come back. An easygoing personality improves the experience.
"Most patients are very nervous when they come in," Aument said. "If you naturally have a calming demeanor this will benefit both you and the patient. You will be able to reassure them in a calm manner and that will enable them to relax and trust the process easier."
Aument also thinks that the job also requires the ability to multitask, manage one's time well and communicate well with the patients and with the rest of the healthcare team.
Despite few people outside the hospital knowing what Aument does, she finds it rewarding work because "you know that you are doing something to help those who are ill."
The Bureau of Labor Statistics further stated the annual mean wage in the Rochester area is $80,220 (information for the Central New York area wasn't available). That's pretty good for a career that requires only a bachelor's degree. Many schools encourage cross training for other modalities such as CT scanning or MRI. This can help candidates for nuclear medicine technician positions remain nimble in the imagery field and more employable as they would possess more skills to offer.
Only a limited number of schools offer degrees aligning with this career path, one of which is University at Buffalo.
Robert Miletich, chairman of the department of nuclear medicine in the Jacobs School of Medicine and Biomedical Sciences at UB, called the educational requirements "intense" and "very rigorous." Plus, the required GPA is a B average.
"I did this because I'm a brain scientist," Miletich said. "What we do in all nuclear medicine is study the physiology of different organ systems. These radiologic drugs mimic molecules already in the body. It's mostly physiology. I wanted to be able to study the functioning brain non-invasively and there's no better way than nuclear tags. It's a very exciting field. The fact that we can do these things in humans and not have to do anything invasively is how we cure diseases. We study the disease itself, not models."
Miletich is board certified in both neurology and nuclear medicine.
Nuclear medical technologists can eventually take on administrative roles in hospital leadership, segue into research, or enter academia.
The demand for the career is high as every hospital needs nuclear medicine technologists. Susan Tiby, assistant director nuclear medicine at Upstate at Community Campus, has noticed a decline in the number of young people entering nuclear medical technologist programs.
"As soon as you say it's a lot of math and science, they don't want to do it," Tiby said. "There are numerous people retiring in the next three – five years and there's already a shortage. There will be a lot bigger shortage then."
She finds that the combination of skills that involve direct patient contact, pharmacy, radiation safety and computer software make this a well-rounded career.
"You're helping a variety of patients, from inpatients to oncology to cardiac patients," Tiby said. "It's rewarding to know you're helping people."