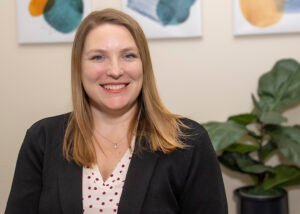 Oswego Health recently promoted long-time employee Jennifer Martin to director of corporate marketing strategy.
Marketing professional Martin started at Oswego Health in 2015 and for the past eight years has been the director of marketing and has assisted with the development of communication strategies for the organization and its affiliates. In addition, she was responsible for online reputation management and community engagement.
In this new role, Martin will lead the operational execution of marketing campaigns developed at the system level and oversee measurement and performance.  She will be responsible for analyzing patient behavior and developing brand reputation across the health system as this is critical and central to a consumerism strategy aimed at differentiating Oswego Health in the marketplace.
"There is probably not a more deserving and suitable person for this role, than Jenn," said Senior Vice President of Communications and Chief Brand Officer Jamie Leszczynski. "She is one of the biggest advocates for the organization and an amazing champion for local healthcare. She continually demonstrates the ability to design effective communication strategies, and has such a skill for identifying marketing channels that meet the strategic needs of Oswego Health.  I look forward to transforming local healthcare with her."
Martin earned her Master of Science in sports management in 2014 from Texas A&M University and her Bachelor of Science in 2001 from Louisiana State University. In addition, she recently completed an online credential program in strategic planning in healthcare offered by the Society for Health Care Strategy & Market Development (SHSMD).