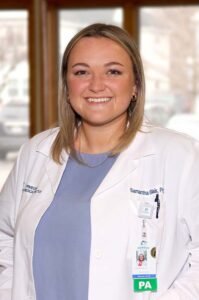 Oswego Health welcomes Sami Blais to the healthcare system as a new physician assistant with Oswego Family Physicians.
Blais studied at Drexel University where she earned both her Bachelor of Science in health sciences in June 2020 and Master of Science in physician assistant studies in December 2021. She is in family medicine and had clinical rotations in pediatrics, internal medicine, behavioral medicine, emergency medicine, women's health and general surgery.
Blais previously was a podiatric medical assistant in Philadelphia and has worked as an urgent care scribe. Her passion for caring also extends internationally as she volunteered in both Peru and Honduras with other healthcare professionals to provide medical care.