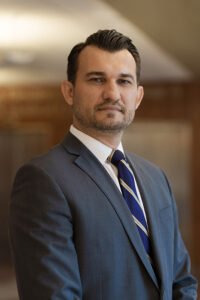 St. Joseph's Health recently appointed Yuri Pashchuk as its new chief nursing officer (CNO). He has been with St. Joseph's Health for nearly 20 years and has a wealth of experience as a flight nurse, outreach specialist, nurse manager and, most recently, clinical director.
Pashchuk started his career at St. Joseph's Health in 2002 as a student tech in the emergency room. By 2006, he had become a registered nurse in the critical care and ER setting.
"I have been blessed to see the way in which my family was welcomed by our community when we immigrated from Ukraine in 1989," said Pashchuk. "I am humbled by the opportunity to serve as the chief nursing officer at St. Josephs Health. It will allow me to give back to our community and an organization that I call my second family. I look forward to building on the 150-year legacy of those who came before me and help lead us into an exciting new future."
As CNO, Pashchuk will provide clinical and administrative leadership for planning, organizing, directing, monitoring, and evaluating safe high-quality patient care to advance the mission of St. Joseph's Health. He is responsible for the nursing workforce, quality outcomes, regulatory compliance, several allied health departments, organizational projects, and strategic initiatives.
"Yuri has extensive experience and years of service at St. Joseph's Health," said Meredith Price, senior vice president of acute operations at St. Joseph's Health. "During those years, he advanced in the scope of his responsibilities. His relationships with physicians, staff and patients have made him a very effective leader. Over the past few years, Yuri has been involved in several leadership development processes to prepare him for this role. We are absolutely confident he will succeed well into the future."
In addition to nursing, Pashchuk is experienced in disaster medical assistance and emergency preparedness. He earned his master's degree in nursing from Liberty University, his bachelor's from Keuka College, and his associtate's degree from the St. Joseph's College of Nursing.
Pashchuk is a member of the American Association of Critical Care Nurses, American Organization for Nursing Leadership and several committees at St. Joseph's Health. In the community, he is an active member at Northside Church and is passionate about his involvement with UMANA, supporting Ukrainian medical relief during war time. He raised more than $10,000 and more than $250,000 in medical supplies for Ukraine.
Pashchuk and his wife, Sarah, who is also a nurse at St. Joseph's Health, have two boys and reside in Baldwinsville.