Experts warn about the dangers of polypharmacy
By Deborah Jeanne Sergeant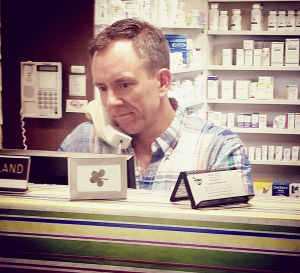 The older patients become, the more likely they need prescription medication. According to the AARP, people 45 and older on average take four prescriptions daily. While needed medications improve length and quality of life, taking too many unnecessary prescriptions can have the opposite effect.
Joanne Wu, board-certified integrative and holistic medicine and rehabilitation physician, specializes in wellness and sees clients in Syracuse and other places in Upstate New York.
She believes that one reason that some older adults take unnecessary medications is that their care providers lack to time to comb through their patients' medical records and discuss their health goals.
Many also don't re-evaluate how well medication is working.
"We're striving for better cholesterol, diabetes and blood pressure numbers, which prevent mortality in the long run, but if you're taking three to four drugs and the numbers are not well controlled, at some point, the primary care team may need to sit down and review it," Wu said.
The patient's physicians may not realize all the medication taken. At this age and stage, many patients see numerous specialists who may not always communicate with each other. Despite the prevalence of electronic medical records, the systems don't usually transfer data between them. By law, they also require signed paperwork from patients to transfer data.
Older patients also seldom self-advocate.
"A lot of older adults don't have the medical literacy to understand that a drug may cause harm," Wu said. "It takes a strong primary care team and support for that older adult so they can understand they have a choice in the matter as to whether they take that drug or not.
"If people take time to talk about those goals with the family and patient, we'd probably cut down on polypharmacy."
Wu added that some older adults taking over-the-counter, herbs and supplements don't realize the potential for negative drug interactions.
"One of the biggest problems we face and that seniors face is getting your prescriptions or even over-the-counter items from multiple sites or from multiple sources," said Craig Rowland, owner and pharmacist at Pine Hill Hometown Pharmacy in Cato. "As an independent, community pharmacy, we are strong believers in getting your prescriptions in one store."
He explained that the pharmacist not only monitors for interactions among prescriptions, but also among over-the-counter options because the organization keeps a record of prescriptions on site.
"Individuals who use mail order are at risk because their records do not interface with our records," Rowland said. "We don't know if they're taking a blood thinner through a mail order pharmacy that we're completely unaware of."
That can be problematic if the patient asks about over-the-counter pain medication but fails to mention the blood thinner when asked.
Older adults who travel or spend winters South use different providers and pharmacies, making it more difficult to keep track of what they're taking. For elderly adults, taking multiple medication may become difficult-and more dangerous-because of cognitive impairment.
Rowland added that many older adults see several different specialists who practice within different health systems, so the electronic medical records don't transfer unless the patient signs a release.
Most insurance companies require a CMR annually, but Rowland likes to perform a comprehensive medication review (CMR) every time the patient's prescriptions change in any way, such as a new one added, an existing one ending or a dosage change.
He also encourages clients to talk with their providers about any side effects that bother them. Rowland sometimes reaches out to the providers himself. Patients taking medication to mitigate the side effects of other prescriptions may be able to reduce their medication load by changing to a different prescription with fewer side effects.