Two Crouse Health employees have recently received the Joan Fernbach Kingson Award.
• Bridget Busia, a nursing assistant at the 6 S. Irving Ave. facility, was nominated for her mentorship, friendly disposition and strong sense of teamwork.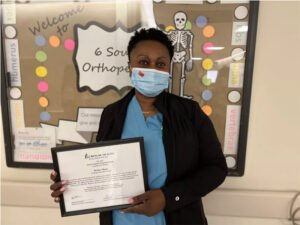 Her nomination said: "Bridget joined the unit in 2021, when the nursing assistant team was undergoing a lot of change. She jumped in with both feet and took on the job of rebuilding the unit. She brought her sister-in-law on board and other former coworkers whom she respected and admired. Bridget become the main orientor on the unit and she embraced the role."
"Bridget is always upbeat and friendly," the nomination read. "She goes above and beyond each day to ensure her patients are respected, comforted, well cared for and strives to put a smile on their face."
• Ryan Courtright, a physical therapy assistant, was nominated for his actions with a particular patient who was not dealing well with a new diagnosis of Crohn's disease.
The nomination read: "The patient was very resistant to our staff's attempts to help him. The only person who was able to make a connection was Ryan. Recognizing this, Ryan would spend extra time at his physical therapy sessions working with him; hours over the course of the hospitalization. Even when not assigned to this patient, Ryan took the time to provide continuity of care. Many times, the patient would comment on looking forward to seeing Ryan."
The nomination remarked on Ryan's overall friendly and caring disposition not only to patients but to his co-workers as well.
The Joan Fernbach Kingson Award was established to recognize service or technical workers like Bridget and Ryan, whose special interactions with patients and families give vivid expression to the values of care which Kingson was committed to in her work with children and families.
Those values include treating each patient as an individual; respecting the social, emotional, intellectual, spiritual and physical needs of others, and welcoming families, especially the young, into the caring process.