Hematologist-oncologist who grew up in Miami is ready to face his first winter in Central New York. He recently joined Hematology-Oncology Associates of Central New York
By Chris Motola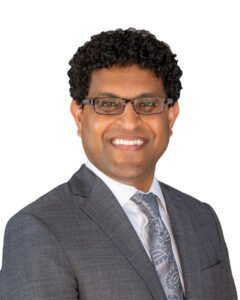 Q: You're specialized in both hematology and oncology, correct?
A: Yes, I treat all types of cancers and all types of blood disorders. I see patients ages 18 and up.
Q: Please give us some examples of the diseases you commonly treat?
A: Some examples would be breast cancer, lung cancer, colon cancer and blood disorders such as myeloma, lymphoma and general issues relating to the blood.
Q: How does your practice break down between your two specialties?
A: I'd say it's about 60% hematology [the field of medicine  devoted to the study of blood disorders], 40% oncology [the field of medicine dedicated to the study and management of tumors or cancers]. Generally, the cancer patients are older whereas most of the benign blood stuff is in younger patients. That includes elevating white blood cell counts, low white counts, low or high platelet counts, low or high red blood cell counts. Elevated white counts could be from inflammation or an infection. Low white count could be from a bone marrow problem. A lot of the low red blood cell issues are from anemia or iron deficiency. Platelet problems can be from a bone marrow problem or vitamin deficiencies, things like that.
Q: What kinds of treatment modalities do you offer at Hematology-Oncology Associates of Central New York?
A: The modalities that I offer are chemotherapy, immunotherapy and biological therapy to treat cancer.
Q: What are the differences between those?
A: So, chemotherapy encompasses chemicals that damage DNA and kill cancer cells as well as healthy cells. Immunotherapy is where you rev up the body's immune system to fight cancer. And biological therapy is targeted therapy that attacks certain genetic features of the cancer.
Q: What are some of the advantages and disadvantages to each of those therapies?
A: It's a matter of targeted therapy versus more systemic therapy.
Q: Do you fill a specific niche within the practice, or are you all dividing up the same work?
A: I'm doing general practice, but as cancer becomes more complicated we'll all have our own niche areas of specialty. I tend to do a lot of melanomas and skin cancers, as well as GI cancers, lung cancers and breast cancers.
Q: You're coming up from down south. What brought you to Syracuse?
A: I've been all over the place. I was looking for a private practice and, in this day and age, private practices are hard to come by. I wanted to be in a practice that was a collegial environment, and the physicians have autonomy with regard to the practice of medicine. The challenge in a lot of the big cities is that a lot of practices have become hospital-based. Hospitals have bought out a lot of practices, and the hospitals are basically the administrators and kind of run the show. Whereas with a private practice, which is what I'm in right now, the physicians have the autonomy to control the day-to-day flow of things.
Q: How big is Hematology-Oncology Associates of Central New York?
A: We have about 14 physicians.
Q: How recently did you start?
A: I started Sept. 8.
Q: Within the practice, how much influence do you have? How do you come to decisions together?
A: Right now, since I only just joined the practice, I'm an associate. I'm not a partner. So, I do have influence in my day-to-day patient care, but in terms of big decision-making that's between the board and the partners.
Q: I take it there's a path to partnership?
A: Yes, there's a path to partnership. That's the model for private group practices for the most part.
Q: Have there been any surprises so far?
A: No, it's pretty much met expectations.
Q: Moving from region to region, do you encounter different types of cancer more frequently?
A: Not really. This is smaller population overall, so it's all proportional. The proportions are about the same, but prevalence is of course higher in bigger cities with larger populations. Proportionally, though, it's about the same.
Q: Are you ready for the winter?
A: Oh yeah, I lived in Rochester for about three years, so I think I'm ready for it.
Q: What kind of impact do you want to have in your new practice?
A: I think I want to make a difference in my patients' lives and help them through difficult times in their journey. I like being a cheerleader through the process. It's also very intellectually stimulating, which is wonderful, because hematology and oncology are constantly evolving.
---
Lifelines
Name: Vinod M. Varki, M.D.
Position: Hematologist and oncologist at Hematology-Oncology Associates of Central New York (HOACNY)
Specialty: Board-certified in internal medicine, medical hematology and oncology
Hometown: Miami, Florida
Education: Medical school: Vanderbilt University College of Medicine, 2011; residency: University of Rochester Medical Center, 2014; fellowship: University of Maryland Medical Center — Hematology/Oncology, 2017
Affiliations: Crouse Hospital; St. Joseph's Hospital
Organizations: American Society of Clinical Oncology
Certification: American Board of Internal Medicine – Hematology, 2018; American Board of Internal Medicine – Medical Oncology, 2017; American Board of Internal Medicine – Internal Medicine, 2014
Family: Married
Hobbies: Travel; tennis, swimming, saxophone, cooking, gym, hiking