Centenarians share tips for healthy aging
By Deborah Jeanne Sergeant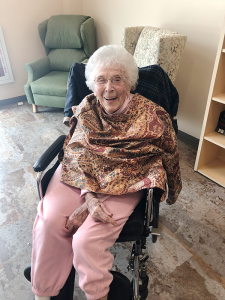 It's not polite to ask a lady her age. But Catherine Sellin, a resident at Loretto's Highland House in Syracuse, readily volunteers that she's 101. At her age, it's a badge of honor.
She's also excited to share, "The mayor used to live here, you know?"
That means a lot, apparently, to a lifelong Syracusan.
She married on Thanksgiving Day.
"He was 29 and I was 19," Sellin said as she referred to her late husband, Raymond. "He was tall and handsome. I was married in a lady's suit, which was quite a big deal, and he wore a brown suit. We had our reception and Thanksgiving Dinner at Tubbert's on North Salina Street."
The couple used to spend summers in a rented camp.
"We went up for the great fishing, but sometimes I just went to get a tan," Sellin recalled.
They also bowled and dabbled a bit in golf.
She worked for L.C. Smith & Bros. Typewriter Company in Syracuse.
"We made typewriters, then machine guns during the war, and then back to making typewriters again afterwards," Sellin recalled. "My husband worked there as well."
Her employment included 32 years at Syracuse China. She worked until she was 72 years old in 1989 and only retired because of her dimming eyesight.
Longevity seems to have blessed Sellin and her sister, who died four years ago at age 92. Their remaining three siblings died much earlier.
Sellin said that her daughter, Patricia Roarke, has three children. They have presented her with nine great-grandchildren and that generation has produced three great-great grandchildren.
Sellin seems excited to serve as the matriarch of five generations. She credits her long life to her habit of "working hard and eating good," she said. "And get a man."
Apparently, a good relationship helps, too.
Another Loretto golden girl, Kay West lives at Buckley Landing and has reached 105 years. Also a Syracuse native, West worked at the Syracuse Herald Journal as a secretary.
These days, she likes going out shopping and talking with Buckley Landing staff.
"I liked to golf and ski with my children when I was younger," West said.
Other than occasional body aches, she doesn't have any major health concerns. West's mother lived into her 90s but West said, "I don't think of things like that. It depends on what you call 'old.'"
West's keys for living a long, healthy life include:
• "Live a good life. Eat the right foods. Make your life the best you can make it. If you make it a bad life then you're a sourpuss.
• "I like to have a vodka tonic at least a couple nights a week. Doctors' orders!
• "Eat right, be positive — and laugh.
• "It's all about how a person keep themselves. I am very particular about what I do and don't do."
What she doesn't do is just as important — smoking and poor diet. She also has good genetics with little family history of disease.
Sellin and West may be onto something.
Physician Douglas Tucker, chief medical officer at Loretto's PACE, said that good social support can help improve the chances for a long, healthy life, along with a healthful diet.
"Stay active with both physical and mind-enhancing activity," Tucker added. "Don't smoke. Take your medications as directed, follow instructions from your health care providers and don't be afraid to ask questions."