By Deborah Jeanne Sergeant
For the past four decades, Hematology-Oncology Associates of CNY has cared for patients with cancer and blood disorders as a private, community-based practice. 
Much has changed since 1982, when doctors John J. Gullo and Santo M. DiFino established the practice. Not long after, two other doctors, Jeffrey J. Kirshner and Anthony J. Scalzo, joined the practice.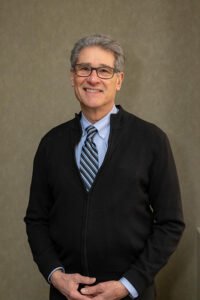 "I was their first employee," Scalzo recalled.
Since then, the practice has grown to 16 medical oncologists, four radiation oncologists and nearly 300 others, including nurse practitioners, physician assistants and administrative staff among its locations in East Syracuse, Syracuse and Auburn and Camillus.
Since his joining the practice in 1982, Scalzo has observed cancer changing from a death sentence in many cases to becoming a curable or manageable chronic illness in many cases.
"Many of the treatments we use now had not even been invented in 1982," Scalzo said.
One changes since then includes development of monoclonal antibodies. Scalzo explained that the body produces antibodies to fight off infections.
"Monoclonal antibodies are artificial antibodies that can coat cancer cells and that leads to the destruction of the cancer cells," he said.
Identifying gene mutation represents another advance in oncology. Scalzo said that certain mutations in normal cells cause them to become cancerous. Treating them with new medication that can block the activities of mutations means that cancer cells lose their ability to continue to grow.
Another big discovery is immune checkpoint inhibitors. 
"These are the medicines you see advertised on TV," Scalzo said. "Cancers block our immune systems from attacking the cancer. They produce substances that put the brakes on our immune systems. With these new medicines, it allows us to take the brakes off the immune system and it becomes more active to attack the cancer. It harnesses our own immune system to attack the cancer cells."
These advances help Scalzo and his colleagues achieve better outcomes with patients.
The practice has also developed an integrated approach to patient care, including the social, psychological, dietary, physical therapy, spiritual and emotional aspects.
As more cancer patients are surviving and living longer, HOA developed a survivorship program that cares for patients throughout their entire treatment and beyond.
"Our goal is not just to help you live longer but to live better," Scalzo said. "You have got to have a good quality of life."
Julie Flack has been his patient since 2006. She takes medication that turns off her cells' cancer-causing mutation which otherwise would have caused her death within a couple years of her diagnosis of lung cancer, according to Scalzo.
"I'm metastatic and have been from the day I was diagnosed," Flack said. "Nine to 12 months was my prognosis. I was 48 at the time."
She receives checkups every four months, which may seem stressful. However, she feels reassured that her providers can catch progressions of the cancer in time. She has had surgery, oblation, Cyberknife, chemotherapy and her ongoing regimen of medication.
Flack praised HOA for both its quality of care and collaborative spirit. She has sought care from specialists in her type of lung cancer at different facilities and received only encouragement from her team at HOA, "which means a lot for anyone going through this. I know many people who've had cancer and that's not always the case."
Flack also appreciates the support group at HOA. Since her husband, Irwin Flack, received a diagnosis of multiple myeloma five years ago, they both attend a support group, along with other HOA patients and patients treated by other facilities. The group is for people who are treating cancer to prolong quality and length of life, not those who anticipate full remission.
"This is really helpful," Flack said. "We're facing death every day. We need to be with people who are in the same boat. It was wonderful for them to recognize we need a place. As time goes on, metastatic people are living longer than ever."
She also lauded HOA's creation of Cancer Connects, which links mentors with people newly diagnosed for one-on-one support.
"The organization also provides financial support for economically disadvantaged patients and free services like acupuncture and massage to patients in four counties," Flack said.
The patient-centered care is one of the aspects of HOA that makes the practice stand out, according to Maryann Roefaro, CEO of HOA, who has been with the organization 20 years.
"The patient is in the center of all we do," Roefaro said. "We are very much a culture of compassion and accountability, and we have very high standards for how our employees treat other employees and our patients."
She believes that employees are very much in touch with the fragility of life and that hones their ability to express empathy in a variety of ways, from verbalization to thoughtful, caring acts.
"Everyone is dedicated to patient care and a very high level of compassion to our patients," Roefaro said. "We have every certification you can possibly have to underscore our quality and commitment to patient care. All our equipment and instruments are cutting-edge. Because we're an independent practice, we can develop new programs and we have incredible flexibility in what we do. Put it all together and it's a recipe for success."