'Being out there when it's cold or snowy makes you feel more invigorated," says a Manlius running coach
By Ken Sturtz
Many runners retreat inside as winter approaches, sacrificing the freedom of the outdoors during the warmer months for a treadmill or other cardio machine.
A common refrain is running outside in winter is too difficult for all but the most diehard runners.
But seasoned runners say with some preparation and planning even a beginner can get off the treadmill and enjoy winter running.
The key to getting into winter running is putting yourself in the right mindset, says Jenna Green, a runner from West Monroe who recently qualified for the Boston Marathon.
"Make yourself a schedule, set a time and stick to it," she says. "The winter months are challenging, there's no lying about it."
Be consistent and don't let the temperature be an excuse for taking an unplanned day off. It's also a good idea to give yourself a couple weeks of running outdoors to get used to it before deciding if it's for you. That'll give you a chance to appreciate what winter running can offer.
"It's my quiet time," Green says. "I don't hear my kids. I don't hear my other half."
Running outside can help combat the winter blues and maintain a positive mood, says Jill Perry, a champion ultra-runner and running coach from Manlius. Running when everything is beautiful and snow-covered is peaceful Perry says.
"Actually, being out there when it's cold or snowy makes you feel more invigorated," she says.
Randy Sabourin, owner of Metro Fitness, has a running partner for motivation: his dog Molly. They run a few miles each morning, stop so Molly can go to the bathroom and then run home. Sabourin says he enjoys getting outside because he spends most of his day cooped up indoors.
"I tend to like being outdoors" he says. "I'd rather run and look around experiencing nature."
Many beginners give up, however, because they don't have the proper gear. Protecting your face and throat from bitter cold, especially on windy days, is crucial, running coach Perry says. Finding a hat and scarf you like is a good start.
Many runners also wear Buff brand headgear, Emily Kulkus, marketing director at Fleet Feet Sports in Syracuse. The stretchable fabric tube can be worn different ways to cover most of the face and the material breaths well.
Runners should wear layers of clothing, Kulkus says, so they can remove a layer once they warm up. Mittens can help keep hands from getting numb on longer runs. Check the weather before your run to avoid overdressing, which leads to sweating and getting cold during a run.
A good pair of winter running shoes is essential, Kulkus says. Shoes made with water-resistant material such as Gore-Tex can help keep feet dry on wet, slushy roads. A good pair of shoes can also reduce the chances of falling, a major concern for winter running.
"I talk to a lot of people on a regular basis who are scared of falling," Kulkus says.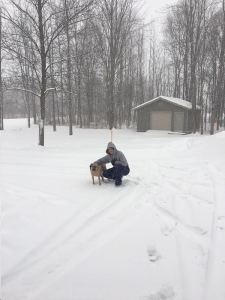 Shoes designed to provide traction on slippery surfaces are preferred. Shoe attachments can also be added for extra grip. Perry has fallen on black ice several times and suggests running on the side of the road instead of on it, or choosing to run on trails. Green wears grippers on her shoes.
On roads, it's important to know the route you plan to take and pick roads that that don't have too much traffic.
"Know your route," Green says. "Know where you're going to go once you step outside. Make sure it's safe."
Sabourin runs around his neighborhood in Brewerton where he's familiar and there isn't much traffic. He says it's important to wear reflectors and carry a flashlight, especially since people tend to run before or after work when it is dark.
And if you need a little extra motivation to start winter running, Kulkus says, Fleet Feet offers a group training program during the winter.
"Just running with other people can be a great way to stay in shape through the winter months," Kulkus says. "That can be a great thing, especially for folks who have never done it before."