By Deborah Jeanne Sergeant
Aging brings its own rewards—wisdom, experience and sense of accomplishment—along with a few challenges. With planning and a few community resources, older adults can mitigate the effects of these challenges as they age.
Lower muscle tone
Losing muscle is not merely a vanity issue. Along with poor balance, it can contribute to falls and subsequent frailty. It begins gradually in middle adulthood but can occur more rapidly if an older adult has been laid up because of sickness or injury. That is why beginning a physical fitness regimen earlier in life is so important.
But exercise and activity at any point in life is better than never starting.
"If you don't practice balance, you start to lose the skill," said Randy Sabourin, owner of Metro Fitness in Syracuse. "As we get older, we take less risk and do things that are more conservative to protect against falling. In reality, you want to be challenging yourself in a safe way, like exercising on one foot, using a BOSU ball and doing things to safely challenge stability and balance."
Muscle tone and cardiovascular is also important for getting up after a fall and continuing to perform activities of daily living. Sabourin encourages adults to continue to stay strong through exercising with functional movement such as squats, performing resistance exercises and cardiovascular training.
"Find something to enjoy, like stationary cycling or indoor rowing," he said. "Your 50s and 60s is the time to put in the effort. I plug personal training, especially if you don't have the confidence to start this one your own. Sometimes, it's just a buddy to keep you accountable."
Health screenings
"People need to make sure do all of their cancer screenings," Black said. "The earlier you catch it, the more likely you are to be cured. There's also screening for osteoporosis and any other screenings their doctor recommends."
Nutritional deficiencies
Poor eating in older adults can stem from food inaccessibility, lack of ability or motivation to cook, depression, or medication that suppresses appetite and/or the senses of smell and taste.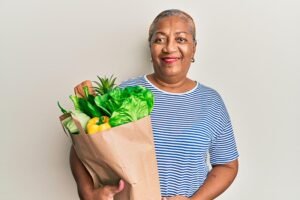 Nutritional deficiencies can contribute to a host of health problems, including mental health.
"A high-quality multi-vitamin-mineral can help ensure that we are getting the RDA requirements of several important vitamins and minerals," said Laurel Sterling, registered dietitian, nutritionist and educator with Carlson Laboratories in Canastota. "Multis ideally should have a substantial amount of calcium, magnesium, omega-3s, and vitamin D3 and K2 as MK-7 for men and women's bone and heart health."
She added that omega-3 fatty acids support the health of the brain, nerves vision, joints, cardiovascular health and more.
Many older adults experience digestive issues that can lead to malabsorption of nutrients. Sterling said that probiotics with a variety of strains of lactobacillus and bifidobacterium can support improved gut function and a health immune system.
"Digestive enzymes are more and more important as we age because our digestive enzymes tend to decrease as we age and this can potentially lead to more GI upsets, bowel issues, and impaired digestion," Sterling said. "Digestive enzymes can be taken on a regular basis with meals or on an as needed basis."
She also said that vitamin D3 supports immune and cardiovascular health and overall physical and mental health. Recent research has also underscored the importance of vitamin K and minerals such as calcium and magnesium for numerous health concerns. Blood tests can determine any deficiencies and primary care providers can recommend supplementation or dietary changes that can promote good health.
Numerous community resources can help ensure good nutrition. Check into congregant meal sites, grab-and-go meal boxes, Meals on Wheels and other resources listed on the Oswego County
Office for the Aging site, https://www.oswegocounty.com/departments/human_services/office_for_the_aging or Onondaga County Office for the Aging site, http://www.ongov.net/aging/nutrition.html.
The NY Connects program at 315-435-1400 can also offer tips on area supports.
Mental health
The pandemic ramped up social isolation for older adults. It has also highlighted the importance of connectedness and good relationships for mental health.
"Older adults need to look at all dimensions of health," said Mary Pagan, professor in the Department of Health Promotion and Wellness Management School of Education at SUNY Oswego. "The social dynamic is the biggest one. They've lost connections and they need to reconnect. Social isolation is paramount to like smoking for health risk."
Recent events also increased anxiety and stress among older adults in the community. In addition to the mental and emotional stressors of the pandemic, Pagan said that many worry about
finances, among other issues.
The same barriers exist for mental healthcare as physical healthcare, along with stigma for seeking help. Normalizing screening at primary care visits has helped reduce stigma, especially among older adults.
Cardiovascular disease
Christopher Black, medical director at Loretto in Syracuse, often sees cardiovascular disease, which can manifest in patients as major events such as heart attack and stroke, and chronic heart failure and kidney failure.
"This major burden of disability in older folks starts with prevention," Black said. "It starts with physical activity and avoiding obesity, keeping active, not smoking and keeping track of your cholesterol. Family history also contributes."
He knows this all too well. While in his 30s, his father experienced cardiac bypass. Black began tracking his cholesterol and keeping closer tabs on his health.